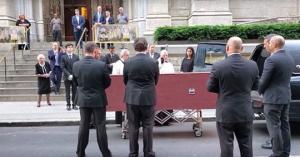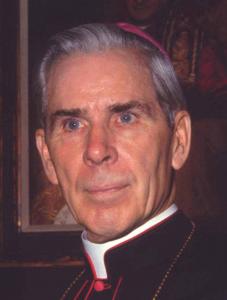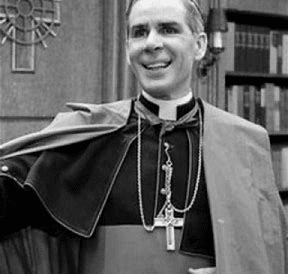 HOMEWARD BOUND
If you find it's me you're missing
If you're hoping I'll return
To your thoughts I'll soon be list'ning
And in the road I'll stop and turn
Then the wind will set me racing
As my journey nears its end
And the path I'll be retracing
When I'm homeward bound again
Bind me not to the pasture
Chain me not to the plow
Set me free to find my calling
And I'll return to you somehow.
–Marta Keen, "Homeward Bound"
"In the quiet misty morning, when the moon had gone to bed, when the sparrows stopped their singing, and the sky was clear and red," a silent procession walked down the steps of St. Patrick's Cathedral in New York with the body of Fulton J. Sheen. They placed the casket in a vehicle to transport him home to Peoria. I've used the words of a famous modern hymn to memorialize this extraordinary event. If you'd like to listen to it, check great Peter Hollens version here:
There was something hauntingly beautiful about the moment. After the archdiocese of New York's embarrassing and expensive attempt to keep the archbishop buried in the cathedral, the courts forced it to return the famous preacher to his relatives and the Diocese of Peoria, his home diocese.
PETTY CONFLICT DELAYS CANONIZATION
The unfortunate part of all of this is that the canonization process to make Sheen a saint was put on hold for years until possession of the body was resolved. There is already a miracle studied and put forward to the Pope for acceptance. Bishop Jenky of Peoria, today, welcomed the return of Sheen and said the Vatican was immediately proceeding with the process to declare the archbishop Blessed and then, perhaps, a Saint.
The cardinal, no doubt upset and embarrassed, did not appear this morning. Just a few pallbearers and a monsignor with holy water. No one was told about the move. It happened at 5:15 am, but a few press were aware and it was filmed. To the end, the archdiocese looked bitter and petty. But even they could not take away the beauty of the moment. An Illinois boy was going home. Sheen would have wanted to do this quietly. And so it happened. In the quiet misty morning when the moon had gone to bed.
IT'S ALL ABOUT RELICS
This was such a Catholic moment, both good and bad. I remember studying about St. Teresa of Avila, the great sixteenth century mystic. She was so famous then when she died, part of her body was literally torn apart by followers who wanted her remains to rest in this city or that city. It sounds terrible doesn't it? Like a barbaric, tribal, riot from another age. But it's not. We have the same actions happen today. I kind of expected a Solomon like decision to have some of Sheen's relics remain in New York and others in Peoria. Lots of folks today would think that awful, but, as I like to say in my class on saints, the days of relic hunters are not over. There's a reason why Elvis Presley is buried under ten tons of concrete. This is a lesser age and our saints are now celebrities but the wish to keep their presence near us still exists.
THE IMPORTANCE OF SHEEN FOR TODAY
Sheen has been so important in my life. I was too young to remember his first go-around as a media and religious star, but I witnessed his later life and listened to his talks. He was just brilliant and I think that is proven by how prophetic his words still remain. He made me want to be a great preacher too, and I think he at least helped me to succeed later as a priest in not giving boring homilies and in giving practical spiritual lessons that mattered to ordinary people. His brother bishops were intensely jealous of him and mightily strove never to have his success repeated. Bishop Barron has come along and somewhat muted that opposition but even he gets criticized. As Sheen once said, there is no jealousy as bad as clerical jealousy.
Of course, Sheen will be canonized as a saint, and I predict it will happen swiftly. He is, even among saints, a very personable, attractive, humorous and holy man. As I was growing up, I heard many Catholics speak highly of him. But more importantly, I heard from Protestants how much they loved him. He may have been Catholic, but he belonged to the world. People just liked him and were thankful for his wisdom and holiness. Now, Peoria will become what New York could only dream of–a very popular world wide pilgrimage site.
On a wonderfully hot summer's day, an Illinois boy is homeward bound. His friends and relatives will welcome him back. His body will finally rest in peace. But his presence will continue to inspire people everywhere of the importance and relevance of Christianity in the modern world. Sleep softly, Fulton, and welcome home.