To learn more about Esa, expanded content, and tools for your own personal journey,
check out the links below.
Includes personal writings, videos, creations, store, and more.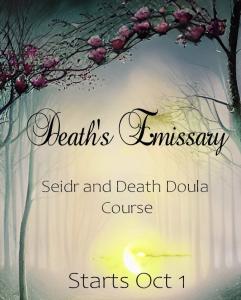 "To Guide others through Death, we must first Know Her and Walk with Her."
This course was developed to bring the two sides of Death Work into one cohesive structure from a Paganistic/ Anamistic perspective. Starting with the personal journey and experience of Spirit Walking, gaining real illumination and wisdom from the secrets the Spirit realm holds, and combining that with the professional knowledge and skills of a Death Doula. By blending these two side you not only become a more powerful Death Worker, but also a much needed resource in our community.
To find out more and see the full Course outline Click Here
The Temple of the Crane is a place for people of various spiritual and magical backgrounds to come together, share, and support each other. It has a front page that shares resources from a variety of traditions, perspectives and voices, along with a private group where we build community. We all abide by three simple rules. 1. Respect: We have different views, opinions, and experiences but we respect the right for others to hold theirs. Healthy debate is encouraged, attacking is not permitted. There is no one way, just the way that works for you. 2. Integrity: Honesty. Honest in your words and actions when sharing with the group and interacting with others. 3. Authenticity: This is another form of honesty. Showing up and being your true self. No embellishments or masks, just being who you are. We all take these rules to heart, and they create a space that encourages true growth.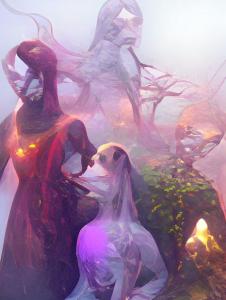 Most of the art you see within my posts are my creations and can be purchased here. It is new and we ae adding to it all the time.
Books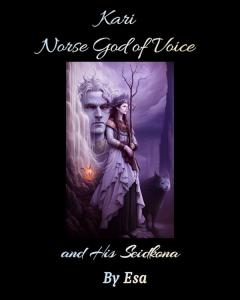 Walk into the World of Kari – Norse God of Voice!
Kari is a forgotten Norse God who holds incredibly powerful knowledge and deep magic. In the sagas he is known as the element of wind – air, which in the body equates to our Voice.
His lessons cover a vast array of topics, including Judgement and Justice, Leadership, Passing Knowledge, and the way of the Runes – especially in Galdr.
A book of devotion, Personal Foundation Building,
and self discovery.
Taking your own journey with The Morrigan.
Various journal prompts to help you build
solid bonds with Her, and make discoveries
within yourself.
A Guided Journal, with various prompts to
help you dive deeper into the Duality between
Emotion and Thought.
Through the journey, we strengthen our own
power and enhance the power of our magic.