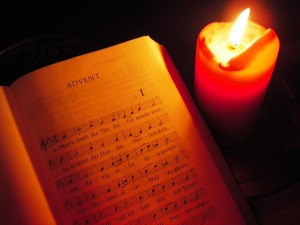 We began the Advent devotions this week. The highlights of having an Advent devotion with four-year olds are numerous.
First, the church new what it was doing with the candles. My children are enamored with the lighting and blowing out of the candle. Against my wife's better judgment, I have one of the children help me light the candle as we begin. This involves having them hold the match with my hand over theirs. We strike it and then they take the lit match to the wick. For the first two nights this rotated between my son and daughter. Now after four or five devotions, it seems they have settled into the lighting and blowing out roles. My son lights and my daughter blows out. Through out the whole 5-10 min devotion, Mary will constantly ask,"Do I blow it out now?" They are preoccupied by the lit candle the whole time. It is wonderful. The candle is a tactile image of Jesus, the Light. They are enamored by the candle light! I pray they will one day be enraptured by the reality to which the candle's light points.
Second, this week is the candle of Promise and we've been talking all week about the promises God made to send a Savior. We've been reading from the Prophet Isaiah and Gospel of Luke. We have been celebrating God's faithfulness to send us a Savior, Jesus the Messiah. We've been reflecting on God's faithfulness in keeping his promises. I pray that Zion and Mary's faith develops so that they have a certain faith in God's faithfulness to keep his word.
Third, we've been working on memorizing the Phos Hilaron (O Gracious Light). This prayer or hymn is a very early Christian hymn written in the Greek of the NT (Koine) likely before the 3 or 4th centuries. It is used by both the Eastern and Western branches of the church. To be honest, I'm ashamed to say that was not even aware of it until very recently.
O Gracious Light,
pure brightness of the everliving Father in heaven.
O Jesus Christ, holy and blessed!
Now as we come to the setting of the sun,
and our eyes behold the vesper light,
we sing your praises, O God: Father, Son and Holy Spirit.
You are worthy at all times to be praised by happy voices,
O Son of God, O Giver of life,
and to be glorified through all the worlds.
(BCP)
It is spiritual enriching to join with the Great Church in reciting a hymn – one that has been sung for two milennia.