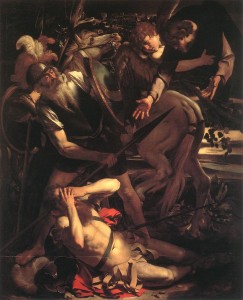 Yesterday, January 25th, the Church celebrated Paul's conversion. I find Paul to be such a compelling person. While Paul has been an intellectual preoccupation for 15 years, he also inspires me. His life compels me to be "all in" on what God has called me to do.
This past year while sitting in the theater in Miletus with seventeen North Park students we reflected on Paul's statement to the Ephesian elders recorded in Acts 20:24.
I consider my life worth nothing to me; my only aim is to finish the race and complete the task the Lord Jesus has given me–the task of testifying to the good news of God's grace.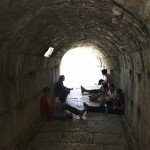 Sitting in the tunnel underneath that ancient theater, perhaps not far from where Paul met with the Ephesian elders, we thought about a life lived all in for God's mission. We thought about the simplicity of knowing what God wants you to do and doing it holding nothing back. How little of this kind of drive and passion and courage and single-mindedness do I see either in myself or in the eyes of the emerging adults with which I live and minister.
I pray that God fills me with an intensity of calling for which I live all in. I pray that God raises up young adults who have a clear sense of vocation and the courage to be all in in its pursuit. I pray that God uses me to bring clarity and inspire courage on the part of emerging adults to pursue God's vision.
The Church's Prayer for the Conversion of St. Paul
O God, by the preaching of your apostle Paul you have caused the light of the Gospel to shine throughout the world: Grant, I pray, that I, having his wonderful conversion in remembrance, may show myself thankful to you by following his holy teaching and his example; through Jesus Messiah my Lord, who lives and reigns with you, in unity of the Holy Spirit, on God, now and for ever. Amen.