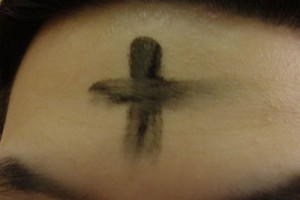 What is a Lenten spirituality? Lenten spirituality is baptismal spirituality. Lent orders your spiritual life around the theology of baptism.
In Ancient Future Time, Robert Webber tells us that the roots of the Lent are to be found in the early church's baptism preparation. In the early centuries of the church, baptism of adult converts was a major event in the life of the church. In preparation for baptism, which usually coincided with the celebration of Easter, Catechumens (those preparing for entry into the church), were put through the rigors of a spiritual and theological preparation. St. Ambrose, a fourth century church father, for example would take his Catechumens through a study of the Patriarchal texts of Genesis. J. Warren Smith notes for Ambrose, "Abraham's departure from the land of Ur in order to follow God to the promise land represents for the catechumens both their Lenten journey to baptism and their journey as baptized members of the church who are sojourners in the world and whose hope lies with their citizenship in heaven".
One of the primary spiritual disciplines during this period was fasting, along with prayer and almsgiving (or generosity). This baptismal preparation however became a practice for the whole church during these weeks of Catachesis. So that it wasn't just the Catechumens who were preparing, but the whole church joined in – those who were already baptized were reaffirming their baptismal vows . From this a 40-day journey of reaffirmation of baptismal vows, a Lenten experience, emerged.
Through baptism a believer is united with the Messiah in his death and his resurrection. Baptism is both a putting to death of one's self and a resurrection to new creation life (Rom 6). It is both a renunciation of our sinful selves and an an embrace of Jesus in faith.
Through the discipline of Lent we journey with Jesus toward his death in eager expectation of his resurrection. As with the relationship between Advent and Christmas, Lent and Easter represent a relationship of expectation and a realization. Through the embrace of Jesus' death in Lent, we are looking eagerly forward to the celebration of Messiah's resurrection.
Webber's says summarizes this Lenten spirituality well:
The Lenten journey is a baptismal spirituality. It is rooted in repentance and conversion, the putting off of the old life and the putting on of the new. Contrary to the opinion of some, this movement from one condition to another is not necessarily a punctilious experience, although there is a point of beginning. Rather, it is a continuous action, a constant turning away from sin toward God throughout one's entire life. Lent is the primary season for this dynamic of baptismal spirituality. Lent orders our spirituality back to its beginnings, back to the basics of repentance and faith. Luther captured the meaning of Lenten spirituality when he called upon his followers to "live in your baptism". To live in one's baptism is to be continually renewed by the commitment of our original spiritual experience.