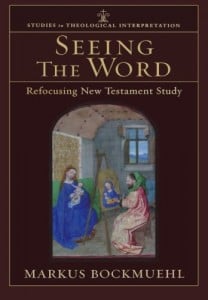 I'm just now rereading my Doktorvater Markus Bockmuehl's book Seeing the Word, particularly the chapter "Seeing the Son of David". If you've not yet read this book I highly recommend it. I had the privilege of being a member of a reading group that met fortnightly in Markus' home in Cambridge where we engaged these chapters before they were published. The group was dubbed the "Grandchester Meadows Group". Here's a gem from the chapter "Seeing the Son of David":
As long as salvation matters to history (and vice versa), then to seek to understand them both becomes a theologian's obligation (205).
As I look over my fairly young career as a New Testament scholar and teacher I continue to see how influential Markus' ideas have been on my theological development. The ideas contained in his chapter on Jesus identity as the Son of David mentioned above influenced me perhaps more than anything else. I'm currently working on a book project on this topic called Jesus, the Messiah, the Son of David: A Davidic Christology of the New Testament which will some day (!!) be published by Eerdmans.