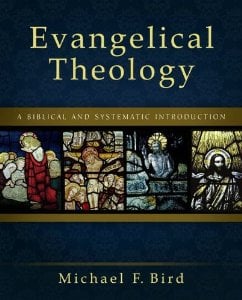 From Zondervan:
Why does Michael Bird place the "evangel" at the center of his new book of systematic theology, Evangelical Theology? Find answers in this excerpt presented by Zondervan Academic. Evangelical Theology hits stores October 29, 2013.
I unabashedly believe that the good news of Jesus Christ is the most important doctrine of them all.
The gospel is the "canon within the canon" simply because the biblical canon is the scriptural expression of the "rule of faith," which itself is an exposition of the gospel. Furthermore, the gospel permeates all other doctrines, it defines the church's mission, and it constitutes our identity as followers of the Lord Jesus Christ.
In terms of Christian theology, the gospel is the glue between doctrine, experience, mission, and practice. I submit that an authentic evangelical theology should be a working out of the gospel in the various loci of Christian theology (i.e., the topics in theology like the nature of God, the person and work of Christ, the church, last things, etc.) and then be applied to the sphere of daily Christian life and the offices of Christian leaders.
The gospel is the fulcrum of Christian doctrine. The gospel is where God meets us and where we introduce the world to God. So my task is to lay out what a theology driven and defined by the gospel looks like. I will defend the view that at its essence theology is the art of gospelizing, that is, making the gospel shape our thinking, praying, preaching, teaching, and ministering in relation to God…
A gospel-driven approach will not force us into a dichotomy of orthodoxy (truth) pitted against orthopraxy (love); instead, we will find the courage to guard the good deposit of the gospel while loving our neighbor as ourselves. The gospel is an expression of the truth of God and the love of God, so it is the best platform on which to integrate a Christian love ethic and Christian creedal convictions.