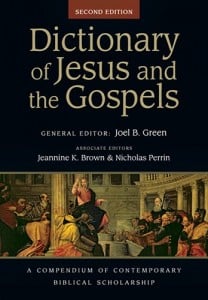 I am excited about recently receiving the new edition of the Dictionary of Jesus and the Gospels. I am also pleased that these days I consider two of the editors (Nick and Jeannine) and many of the contributors as friends. Quite a different sense of things from when I first used the first edition of DJG. Truth be told, I was initially slated to write two of the articles, but had to regretfully decline in the end due to other commitments. I think I'm now feeling a little regret about that when I look at how handsome this volume is and remember just how much help the first edition has been to me.
It is fair to say that the first edition was crucial in my development as a Gospels scholar. I can remember pouring over Scot McKnight's article on Matthew's Gospel for hours, reading it and rereading it. I have consult the DJG so many times it would be now impossible to count. It is an essential tool for every pastor and serious minded evangelical Christian.
I'm looking forward to discovering what is new about this second edition. I'll be doing a series of posts titled, "Why buy the second edition of DJG, if you have the first?"
The first post will be on Matthew and will be forthcoming. My friend Jeannine Brown, one of the associate editors, wrote the article for the second edition. Today she is a significant Matthean scholar in her own right.