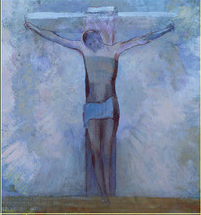 One of the themes of which I've been personally preoccupied in recent months is the idea of the suffering of God. I was just journalling this morning about my desire to be even more focused on this theme. I have been finding of late that my imagination has a significant amount of power in creating new realities in the "real" world. Anyway, I could say more, and will say more about that at some later point.
On the theme of God's suffering with us, I've been reading the little book Suffering and Victorious Christ, The: Toward a More Compassionate Christology
 by Richard Mouw and Doug Sweeney. One particular line has really caught my attention. I resonate with it and have been crewing on just this point for a while.
Yet our Japanese friends are also rightly critical of a theological portrayal of Jesus–one that often looms large in the very communities that nurtured the missionary movement–as a "manly" Christ whose redemptive mission is spelled out in triumphalistic terms. To be sure, evangelical theology has also attended much to the suffering of the Son of God; but the portrayals of that suffering, as we have seen, often focus primarily on the unique agonies of the cross. The Jesus of much of our explicit theology has often been a Savior who suffers for us, but not with us (95).
Their last words are so good:
To recognize that Jesus has suffered with us needs in no way to detract from the fact that in eternally significant ways he also suffered for us. Without the once-for-all transaction on Calvary, where he bore the full burden of our sin and guilt in ways that we could never do for ourselves, we are lost. But, and this is what we have endeavored to highly in these pages, it is a good thing to be clear about the path–including the lonesome valleys–that he had to walk on the very human journey that began in Bethlehem's stable (95)
I want to talk about a Grief-generated grace. By which I mean a grace that is inspired by a connection with us. Traditional images of God's grace expressed in the oft quoted gloss "unmerited favor" seem hollow and thin theologically. Especially in light of the incarnation. God does not bestow his gift on us in the way a rich uncle, third removed would. He is present with us. He is connected. His immanence generates his action.