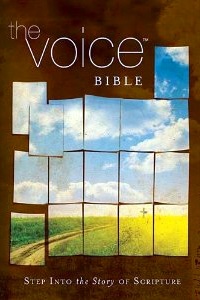 Thanks to Thomas Nelson, I got a free copy of The Voice Bible (TVB). I've been periodically working through TVB in recent years and found it very readable, refreshing, and thoughtful. It is best described as a dynamic equivalence translation with some paraphrastic embellishments to help capture the sense of what is being said the text. That is fine because all translations are also an interpretation. It came out initially in 2008 and was updated in 2011. It is produced by the Ecclesia Bible Society who put together a team of scholars and writers to come up with the lively translation.
Interesting features include:
– Dynamic equivalence translation.
– Italics to indicate words not strictly derived from translations, but bring out the nuance of the text.
– Screenplay format for dialogue that makes it easy to follow
– Delineated material, separated from the text, to sum up the text or to provide cultural insights or devotional thoughts.
Unique aspects of the translation are:
– Christos is translated as "God's Anointed" or "the Anointed One."
– YHWH is translated as "Eternal one" or "Eternal."
– Apostolos is translated as "emissary."
Here are some examples of the translations:
Gen 1:1-2: In the beginning, God created everything: the heavens above and the earth below.Here's what happened: 2 At first the earth lacked shape and was totally empty, and a dark fog draped over the deep while God's spirit-wind hovered over the surface of theempty waters. Then there was the voice of God.
Isa 53:10: Yet the Eternal One planned to crush him all along,
    to bring him to grief, this innocent servant of God.
When he puts his life in sin's dark place, in the pit of wrongdoing,
    this servant of God will see his children and have his days prolonged.
For in His servant's hand, the Eternal's deepest desire will come to pass and flourish.
Ps 110:1: The Eternal said to my lord,
    "Sit here at My right hand,
    in the place of honor and power,
And I will gather your enemies together,
    lead them in on hands and knees;
    you will rest your feet on their backs."
Mk 1:15: It's time! The kingdom of God is near! Seek forgiveness, change your actions,[i] and believe this good news!
Mk. 10:45: Even the Son of Man came not to be served but to be a servant—to offer His life as a ransom for others.
John 3:16: For God expressed His love for the world in this way: He gave His only Son so that whoever believes in Him will not face everlasting destruction, but will have everlasting life.
Rom 3:21-26: 21 But now for the good news: God's restorative justice has entered the world, independent of the law. Both the law and the prophets told us this day would come.22 This redeeming justice comes through the faithfulness of Jesus,[a] the Anointed One,the Liberating King, who makes salvation a reality for all who believe—without the slightest partiality. 23 You see, all have sinned, and all their futile attempts to reach God in His glory fail. 24 Yet they are now saved and set right by His free gift of grace through the redemption available only in Jesus the Anointed. 25 When God set Him up to be the sacrifice—the seat of mercy where sins are atoned through faith—His blood became the demonstration of God's own restorative justice. All of this confirms His faithfulness to the promise, for over the course of human history God patiently held back as He dealt with the sins being committed. 26 This expression of God's restorative justice displays in the present that He is just and righteous and that He makes right those who trust and commit themselves to Jesus.
Rev 20:4-5: 4 Then I saw some thrones, and those seated in judgment were given the right to judge. Standing there were the souls of those who were beheaded because of their testimony of Jesus and the word of God. They had refused to worship the beast or its detestableimage and had not received the mark upon their foreheads or upon their hands. They had come back to life and reigned with the Anointed One, our Liberating King, for 1,000 years. 5 Now as for the rest of the dead, they were not given life until the 1,000 years were completed. This is the first resurrection.
Recently I've been reading Hebrews (in the morning) and Deuteronomy (in the evenings) and found TVB to be a reliable and often riveting rendering of the text. I've often appealed to TVB while writing my Romans commentary and preferred its rendering over translations in some instances.
You can download the TVB New Testament as a free app or read the whole thing on-line at Biblegateway.com
Look, there are a plethora of good Bible translations out there. I like the NIV, NRSV, ESV, HCSB, and CEB in particular. That said, I'll certainly be keeping The Voice Bible close by since it has a cool format and brings out dimensions of the text that most other translations are not able to bring out. It is not as quite as poetic as The Message, but it certainly more accurate and more tied to the text. Well worth reading and recommending to others.