I have just finished a chapter for a book on Israel. I am more convinced than ever that Matthew fits comfortably within his late first-century Jewish milieu when it comes his views on question of the future for Israel as a people and Land. Look for the piece in the book which comes out next year with IVP edited by Gerry McDermont. [Side note: it was great fun to visit with Gerry a couple of weeks ago at the Gloria Hotel in Jerusalem just inside the Jaffa Gate of the Old City. We were both there leading study tours and took some time to connect. Gerry is leaving Roanoke College after 25 yrs for Beason Divinity School in Birmingham, AL].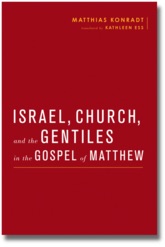 In addition to writing the essay, I'm also reviewing Matthias Konradt's new book translated from the earlier German edition: Israel, Church and the Gentiles in the Gospel of Matthew. This volume has been done wonderfully by Baylor under the leadership of my good friends Wayne Coppins and Simon Gathercole. Konradt's book is excellent on a number of levels. It is exegetically robust and theologically rich. It is certainly within the gamet of what I'm calling Post-supersessionist readings of the NT which offer readings of the NT that present a continuing place for Jewish ethnic identity within the church. As a sample of the exegesis and theology here is a statement about Matthew 27:24-25:
So when Pilate saw that he could do nothing, but rather that a riot was beginning, he took some water and washed his hands before the crowd, saying, "I am innocent of this man's blood; see to it yourselves." Then the people as a whole answered, "His blood be on us and on our children!"
Konradt writes:
It is indisputable that the scene of judgment in 27.15-26 is the climax of the opposition to Jesus that recurs from Matt 2 on. But, as before, the hostile front is not identical to the Jewish people as a whole. Matt 27.24-25 is therefore not to be understood as an aetiology for Israel's end. A crowd of inhabitants of Jerusalem is seduced by the authorities and, together with their seducers, takes on responsibility and thus the guilt for Jesus' death, as well as the consequence that is manifested in the destruction of Jerusalem . . . In addition, as 27.64 shows, 27.25 is by no means the last word, especially as even as after 27.64 shows, 27.25 is by no means the last word, especially as even after 27.25 Jews still appear in positive light" (166).
Matthias's work is an important contribution to Matthew research.