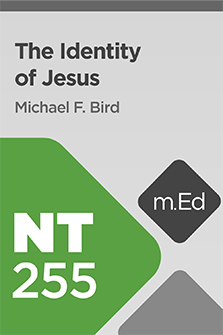 For those interested, I recorded a short course, only 2 hours, with Logos Mobile Ed on The Identity of Jesus.
It is in many ways a seminary level summary of NT Christology, covering major bits and pieces, with a view to how you get from Nazareth to Nicea.
Only $40.00 and available for pre-order!
Course Outline
Unit 1: The Historical Jesus
Jesus and the Kingdom
What Did Jesus Think of Himself?
Did Jesus Think He Was God?
Unit 2: The Gospels
Overview
The Gospel of Mark: An Apology for the Crucified Messiah
The Gospel of Matthew: The Davidic Messiah
The Gospel of Luke: The Prophetic Messiah
The Gospel of John: The Elusive Messiah
Unit 3: The Apostle Paul
Paul's Divine Christology: Part 1
Paul's Divine Christology: Part 2
Concluding Remarks on Paul
From Nazareth to Nicaea