You may or may not be aware that Saudi blogger Raif Badawi has been sentenced to receive 1000 lashes, 50 per week, as punishment for his support for freedom of conscience (i.e. freedom of religion). This is outrageous and there is now a petition going around that will enable us to do something for Raif, even though we are on the other side of the world.
The petition is available at the following webpage. Its substance is as follows: "We, the signatories of this petition, commit ourselves to each individually take lashes in Raif's place. We would rather step forward and share in Raif's punishment than be bystanders to the torture of this innocent man by the government of Saudi Arabia. We also stand in solidarity with other individuals sentenced to such barbaric punishments around the world and our pledge is for them as well."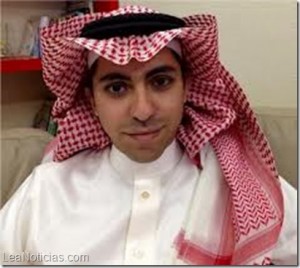 By signing this petition you are agreeing to take 100 of Raif's 1000 lashes, and perhaps more importantly you are letting the Saudi government know that this outrageous punishment is unacceptable to people in the rest of the world. Sign this petition to pressure the Saudi government to reduce Raif's sentence!
You will not be alone in signing the petition: "Seven Religious Freedom activists, in a gesture of deep solidarity with Raif, wrote the Saudi government offering to share his punishment by taking lashes in his stead. In their words, "If your government will not remit the punishment of Raif Badawi, we respectfully ask that you permit each of us to take 100 of the lashes that would be given to him. We would rather share in his victimization than stand by and watch him being cruelly tortured.""
If you want to publicize the petition you can use your Twitter account: #TakeLashes4Raif
I will be using the hashtag #TakeLashes4Raif at my Twitter account  to publicize Raif's cause in the next couple of days. Many thanks for your involvement!