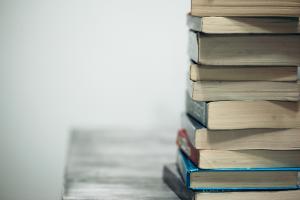 The title of this post is misleading, because these books – this reading – is very personal. They aren't universal touchstones, but they are my touchstones. In various seasons, these readings have sustained and influenced me. Most of the language I use today has a root in one of these 5 books. While we tend to outgrow some writing, these books have retained their resonance for me throughout the years.
At a time when I was saturated in doctrine, denominational theology, and jargon this book came like a gentle wind. Nouwen, a priest and psychologist, addresses this tidy but powerful book to a friend who is struggling to find resonance in faith.
Instead of cajoling or using guilt, Nouwen simply welcomes his friend to bring himself. Bring the full content of who you are to the one who calls you Beloved, the book beckons. The entire book is summed up in this one simple phrase, and for me I need the reminder that my whole self is called "Beloved."
Honestly, I could have chosen any one of Willard's books for the list but this one is unique. The language of formation that Willard uses is unique and strong, especially when read through the lens of Jesus' Kingdom invitation to everyone.
In Renovation, Willard captures the importance of the whole person (are you picking up a theme in my writing?) for spiritual transformation. Mind, heart, spirit, and relationships all find their place in the way the Spirit of God transforms us into the character of Christ. While this book is a challenging read, it allows for multiple return visits and new insights every time.
While Smith is far better known for The Apprentice Series, I first encountered him in this loving and inspiring biography of the musician Rich Mullins. Smith's friendship with Rich (who lived in Smith's attic at one point) allows him to give a unique perspective on the troubled but spirited singer/songwriter.
Reading this book, I began to see the possibilities in a life of searching for Jesus in simple ways rather than in the fireworks of extravagant experience. Mullins' life and music have always drawn me deeper into the
mystery of God
. That drawing grew only more intense after reading
Arrow.
For a while, I found myself reading through this biography on an annual basis. Merton wrote his story at the age of 33, and it has become a classic in Christian spirituality. Merton details a young life of challenge, brilliance, and loss while at the same time moving towards a commitment to life as a Trappist monk.
In Seven Storey, the centerpiece is the concept of vocation. Fighting through a military draft, health issues, and moral lapses, Merton finally finds peace in the monastic life. At various points in my life, Merton's narrative has brought me back to what it truly means to be called to something. The calling is not specific to church work, and indeed Merton's story inspires us to whatever work God has gifted and drawn us to do.
Sometimes touchstones come later in the journey. I read this work about 4 years ago in a time when I needed clarity around inner conflicts and confusion. This book was an incredibly helpful guide. Rohr's delicate but precise assessment of what defines spirituality of the "first half" (also called building the container) and what characterizes the "second half" (filling the container) helped to give language to the way I felt my faith changing.
Rohr gives readers the ability to see how the faith that created our foundations, tribes, and language may not sustain us for the next chapter of our maturing journey. I have recommended Falling Upward more times than I can count, and return to it often myself.
What about you – what books have given context, encouragement, or inspiration to your journey of faith? Share in the comments below.
(Photo by Sharon McCutcheon on Unsplash)