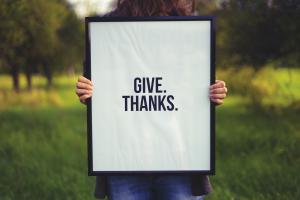 When I started writing a blog, I tried to consistently publish a prayer every Friday. The prayer was meant to carry through the weekend, until Monday when I'd post something new. I would love to resurrect that tradition starting today. With Thanksgiving approaching in the U.S., it feels like an appropriate time for a prayer about gratitude.
As we prepare for Thanksgiving week, here is a script for you to chew on with God. Blessings friends.
O God, We are grateful.
Gratitude, the state of living in gratuity, means we know we've received something.
We have been given a great deal: food, health, life, vocation.
Regardless of the quality of these gifts, they are gifts all the same.
Yet God, Creator, Source, we also remember those who have lost.
First Nations peoples who lived in what we call America, who in partnership gave to their visitors but in their generosity lost dearly at Thanksgiving.
Help us in our act of Thanksgiving to remember those to whom we owe apologies and attentiveness.
Forgive us when our gratitude has come at someone else's expense.
Help us express our gratitude by making things right with those who have lost…
Deepen our thoughts.
Sweeten our words.
Expand our understanding of the world as it is.
May we cherish family, life, and light today.
Help us to see the gifts you have given and celebrate them. Help us accept our need for You and for others with greater hunger in this season. Grant us rest in Your provision.
Give us the grace to be grateful, and then to be gratuitous in return. Let us make steadfast love a dish we pass around the "table" at which all humanity reclines and enjoys.
We are grateful to You. Let our lives resemble gratitude. 
(Photo by Simon Maage on Unsplash)