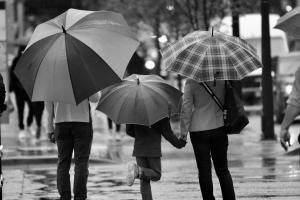 I believe the goal of parenting has to be more than "a good kid."
In December in Illinois, if you find a day that's above 42 degrees you take every opportunity to be outside. We all know "Winter is coming."
My wife and I took a walk around our neighborhood, checking on the new homes for sale. Some folks have added giant Santa inflatables that rise to the gutters of their homes. Santa at that height seems rather intimidating.
We talked about life, our work, and our families. I bounced ideas for writing off of her, she talked about the things we need to do next in the week. These walks are always cherished moments for me.
We were talking about our daughter when I heard myself say, "She's a good kid." Granted, there's nothing wrong with having a good kid. No one really nods and says "He's a little scoundrel" with a look of pride on their face. That is the point I want to make, of course:
The idea of being "good" is not a healthy target.
I've heard evangelical pastors and teachers in the past drive home the point that "None of us is good enough to deserve heaven" or some variation of the point. Theologically, this is supposed to highlight the importance of grace.
So why do we continue to try and raise "good" kids?
As parents, we wear a lot of hats. We are expected to be sociologists (what are your friends doing?) and psychologists (what do you think you're doing?). Our role verges into economics (that's a waste of your money) and politics (you can't talk to your friends like that or you won't have any). Parents are dieticians, transportation officers, fashion designers, and supply chain managers.
Let me add one duty that we often forget:
Parents are spiritual directors.
Many of us who are parents are chasing after spiritual formation. Spiritual formation is the whole life transformation of our will and actions towards the example of Jesus. I typically say it's learning to be like Jesus in the skin we're in.
When it comes to our parenting then, we are helping guide and direct our kids towards that kind of life. We are not controlling a product, such as making them good people. Parenting is not guilting them to keep the rules and regulations so that they will be acceptable to us – and by default, to God.
A good spiritual director is all about creating environments where people can listen to God, themselves, and their lives on the journey of formation.
When we create an environment where we and God are interested in them being good, what we are doing is setting an outward expectation. They could be good on the outside and rot on the inside, a reality that Jesus often points out.
But then what happens when they don't do good?
When we try to raise good kids, and they stumble and fail (which is inevitable), there is more at stake than just their behavior and the consequences.
"Good" kids who stumble don't just lose their way, they lose their identity.
Our job as parents then is to help facilitate the formation of our kids around some key ideas. We form them to know that when God looks at them, he sees them as "very good" (Gen. 1:26) and he will never change his mind about that. Period.
Parents direct their kids not to find their identity in what they do, but to do what they do from the place of their identity. In Exodus, God begins the Ten Commandments by telling Israel "this is who I am, and this is who you are." (20:1)
Before God ever says, "Thou shall/shall not" he says "Thou art."
As parents, we move our kids towards Jesus so that what is true of him might become true of them. They can share in the identity of being "beloved children" of God (1 John 3:1) in whom He is "well pleased." (Matthew 3:17)
What we are given to do as parents is not to raise good kids, but to raise kids grounded in their identity in the eyes of God.
How do we change our parenting strategy?
To begin moving away from trying to raise good kids and instead raise grounded kids, I think there are two simple steps.
Monitor what we praise.
Our kids respond best to what we celebrate. Of course, we need to celebrate the behavior and actions that are healthy and constructive. The shift to raising grounded kids requires that we celebrate the values and character moments more frequently than the good deeds.
One way to do this is to blessour kids' character. We say things like, "That was a good way to handle that situation" or "I love your attitude towards this person/situation." We can also challenge our kids with a new trajectory by saying "I love what I see you becoming in your attitude and the way you're thinking things through."
When we start praising the character things and reminding our kids of their identity, they will grow into a values-focus rather than a task-focus.
Correct based on identity.
In our house when my daughter struggles or stumbles we say, "This isn't who you are, you know?" Or, "You know none of this affects our love for you, right?"
When we correct, we create an environment for both understanding as well as learning. Our kids don't want to be "bad" so they'll hide failures instead of embracing and learning from them.
When we correct by identity, we give our kids the confidence to know that failure doesn't threaten who they are. From that foundation, they can learn to act and respond differently.
Of course, this isn't an easy journey but the life of formation and grace rarely is. We as a family have found more life and light in this path than the others we've seen.
May we as parents know our own identity as beloved children of God. Let us then pass that formational inheritance on to our children. And one day as we take a long walk, may we say: "He/she is a grounded kid."
(Photo by Dimitri de Vries on Unsplash)