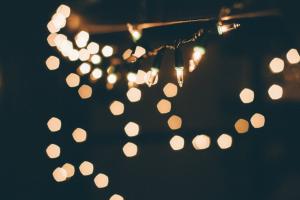 A little known fact is that many churches are planning and meditating on Christmas services in June.
Difficult as it may be, leaders in churches like the one I serve are thinking about music and teaching and decor in the midst of seething humidity. At least here in Chicago.
So, when those elements "happen" on the days leading up to Christmas, it is a culmination of 6 months planning and preparing. While many of us enjoy the fruits of those labors, the conversations behind the scenes are different.
"So, what about Easter?"
There is a bit of Christmas fatigue that sets in around this point. Even if you're not one who plans church-related events, this is a season of planning and action and it often drains us. So when we come to Christmas Eve, Christmas Day, and the week in between we have this desire to say, "Finally."
Of course, most traditional church calendars extend the celebration of Christmas to Epiphany on January 6. So, plan accordingly.
Plus with Christmas Eve falling on a Monday this year, my routine is thrown and rightly so. A celebration requires a divergent schedule. So for this piece I wanted to toss out three "divergent" thoughts for this Christmas week. Hopefully you'll find them both challenging and encouraging.
1. Jesus' birth doesn't need the crucifixion (yet) to be powerful. 
I made a comment to someone the other day that many Christmas teachings "try to crucify the kid before anyone has a chance to cut the umbilical cord." While this seems crass, I'm overwhelmed by our tendency to pair the Christmas story with the story of Easter.
The Advent season, the waiting for arrival, is a season that is saturated with beauty. We don't fast like Lent, we light candles. We don't go into the darkness, we…again, light candles. The news of Jesus' birth, unless you count Simeon's word to Mary about a piercing "sword," is about hope and freedom.
The birth of Jesus can be "good tidings of great joy" without having to move straight to our understanding of the atonement.
In fact, there is something good about letting the story unfold as it does instead of skipping to the end. We are in need of celebration, of normalcy, and of lament. Yes, sometimes those intricacies of life overlap, but Christmas is a moment where we can say:
Jesus is the full goodness of God well before He ever goes to the cross.
If we don't allow ourselves celebration and light, the darkness is simply background noise when the time comes for fasting and mourning. The cross will have its time, but only if we enter the time "until."
2. We are people whose bodies live on rhythms.
If you pay attention to your own life like I pay attention to mind, you'll notice a downturn around this time of year. Our energy wanes, our productivity lags, and we begin to think about shutting things down. The seasons we experience in the Midwest help immensely (nothing like -32 degree temps to paralyze you in place), in this transition. The reason is that we live off of the sun, and the sun is moving away from us at this time of year.
So while the birth of Jesus is a time to celebrate, it leads us into a time of year when we go into a sort of hibernation.
The holiday calendar throws off our schedules, but the solar movements shift our biology.
The most spiritual thing we can do in the season after Christmas and through until spring is to allow the shutdown to happen in whatever way is most healthy. My wife and I take D3 capsules, try to sleep a bit more, and focus on exercise.
If you struggle with mental illness, now is a time to focus on your therapy and the work you do to remain healthy. Self-care is not seasonal, but there are times when the focus must be stronger than others.
3. A year begins with meditating in earnest. 
Honestly I don't have much on this idea, but it is one that comes to mind often in the latter part of December. Despite whatever circumstances hamper us, we are filled with hope because of the birth of Jesus. We have obstacles that will carry over, they do not cease at the rolling of the last digit in the year, yet we have hope.
A new year is beginning here and now. New life is taking shape and bursting through the frost-wracked soil, defiantly fighting for your attention.
Our single call is to receive it and  to call it good. May we listen where this "wild goose," the Spirit of God, is taking us. May we then see the hope of Advent and Christmas soak through all that is our wild and weary world this year.