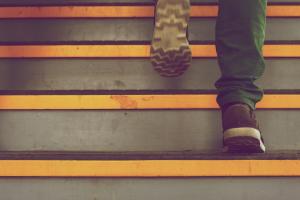 Ah, yes. It's the week before New Year's Day and therefore I'm contractually obligated to talk about resolutions, change, etc. etc.
Every year, I debate about whether to even mention the fact that "a new year means we think about change" however when I stop to think about it carefully:
A new year means we think about change.
For whatever reason, the flip to a brand new calendar or the change of a single digit at the end of the year (which we won't master typing until at least May) brings change.
A fresh calendar means a fresh start, somehow. We leave some things behind and pick up others. We hope that this year will be better than the last, to paraphrase a great band.
As a person who is passionate about spiritual formation, New Year's conversations are especially fruitful. This is the time when we are prone to processing images, realities, and habits that relate directly to following Jesus.
If spiritual formation is becoming like Jesus in the skin we're in, then a new year's dawning is an effective incubator for that "becoming."
I want to offer four "intentional steps" that we all can take as we await the dawn of 2019. I'm going to offer two steps in this post and then two more in the next post.
These are somewhat practical, but since we're all different sometimes practicality becomes generalization.
What I want to offer instead of strict advice is direction – a trajectory towards something new and brilliant in our walk with Jesus.
First, a new picture for a new year. 
Any new "thing" should begin with our looking at the big picture. What is the point of this attitude or activity? Is there an image that brings together the various pieces of this plan, life, strategy, or relationship? How does a life filled with such different ingredients come together into a pleasing aroma?
In our following of Jesus, there is an image Jesus Himself uses that is helpful:
"If anyone thirsts, let him come to me and drink. Rivers of living water will brim and spill out of the depths of anyone who believes in me…" (John 7:38-39, The Message)
Whatever your plans for 2019, I imagine the image of being a fountain of living water is appealing. The kind of water that gives life to your self, family, your community, and your work. A source of life and sustenance that is filled with life in and of itself while filling others at the same time.
Based on this image from Jesus, what if we intentionally engaged the following question:
What would it look like for me to be a river of living water this year?
Are there habits or practices that sustain that water that I need to take on? What pollutants do I need to avoid?
Second, we need to see things differently. 
The point here refers to the "lenses" that we use to look at everything in our life. Taking on the big picture of living water (see above) requires that we look at things differently.
Taking on a new way of processing reality isn't easy, which is why the impact is so profound.
Paul in the letter to the Romans says,
"…be transformed by the renewing of your minds, so that you may discern what is the will of God…" (Romans 12:2, NRSV)
To become a conduit for living water requires that we see our politics, friendships, and inner world differently. Living water needs attentive habits to maintain clarity and health.
The depth of transformation extends when we realize that Paul's words were written to a church in the midst of division and infighting. Jewish and Gentile Christians were fighting over who God loved more, and the antidote Paul offers is "You need better lenses."
The way we avoid being a stream of muck and sewage is by thinking of everything in the light of Jesus' announcement of the kingdom.
What if we started to change our minds this year by listening to others with whom we disagree, knowing that we don't have to "win"? What if we can have a conversation where we simply and intentionally ask questions instead of offer opinions?
In the next post, we'll deal with how these "inner" pieces fit with the "outer" life we live in the world. Until then, may God cement the image of "living water" in your mind. May that flowing, life-giving stream help shape the way you think about everything. May you begin to rethink what 2019 can be, and may the steps that follow help to inspire actions bathed in grace and hope.