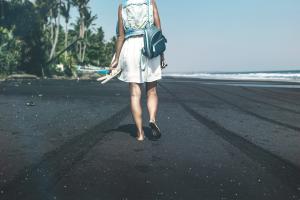 We're picking up here the discussion that started in last week's post. The hope is to give four practical "moves" towards spiritual health  (can we call them resolutions) for the coming year.
In the last post, we talked about needing a new picture for 2019 as well as a new way of seeing things. When we cultivate a bigger vision it keeps us moving through challenges, and the "lenses" this vision provides helps us to think differently about everything.
Our third step then is all about intention. 
Dallas Willard talks about how transformation occurs when we engage with vision, intention, and means. We've already talked about vision, the next step is to deal with what I call the heart of the matter.
Our heart is the place where we cultivate and establish our intentions.
In the negative, the world of "intention" is where most New Year's Resolutions go to die. The distance between the bed and the alarm clock, when we have resolved to get up and hit the gym, is a distance of intention.
Our heart is where we take the vision and our way of seeing the world, and make up our minds to do something with it.
Jesus says, "Out of the overflow of the heart, the mouth speaks." Which is less of a referendum on whether we use profanity or blessing, and more about what kind of vision we've bought into. So how do we take a healthy step towards healthy intentions? There's a fairly simple question that helps us do diagnostics on our own soul:
Based on the vision and my new lenses, what will I commit to doing regardless of the obstacles?
This is critical conversation for our spiritual health. If our intention doesn't go beyond the first distracted prayer, early morning, or difficult conversation we will punt on spiritual health. The heart of our life must be flinty and resilient in the face of challenge.
Finally, spiritual healthy resolutions require execution. 
There are two meanings to "execution" that both matter here: one is to carry out a plan, the other is to kill something. We can be assured that transformation needs both a plan and some dying.
The model of Jesus shows us that God alive in the world is God's Kingdom lived out. The doctrinal name is "incarnation" but we could simplify that word to "get on with it the way God would." Jesus reminds us that if we want to know what that God-life looks like, we only need to look at him (John 7:38-39).
action.
Ultimately, vision and lenses and intention must turn to 
The question of "What do we do now?" is the question that comes when we have a vision that is so strong that regardless of the "means" we'll find a way.
The person who desperately wants to learn to speak Spanish – rather than just pass a high school class – will commit time, energy, and resources to learn the language. Their vision of conversation is so strong that the means don't matter. They might take a night class, run through an online language tutor, or enroll in immersion studies. It doesn't matter.
In 2019, we will know what vision we're chasing by what we'll pursue no matter what it costs.
This is where the "second half" of execution comes in.
We can't do everything. Naturally, setting our intentions means we choose one path over others. We have to let some things go. To pursue learning Spanish, we may have to break up with Netflix ("It's not you, it's me…")
To carry out a plan is to kill off any other plans that divert our attention. The vision and lenses of Jesus are so important here: we cannot do this alone without the Spirit that inspires us (John 14:17, 26)
As you take healthy steps this year, the question is "what vision are you giving up energy and time for?" Also, "How is your heart leaning towards that vision? Are you experiencing health or dysfunction as a result?" Finally we need to ask, "Are we acting on the things that we say we are most committed to?"
Many of us will need help here. My suggestion is to find a group of friends or one friend you trust to help you along. Or, perhaps a spiritual director is the best next step as you pursue health in 2019.
Regardless of the path you take, may you find the vision and lenses to see your world differently this year. May you see becoming like Jesus to be the most compelling way to live. May you set your heart and actions to moving into that grace-soaked life with Him.
(Photo by Artem Bali on Unsplash)