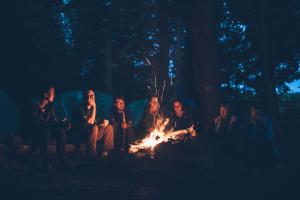 Faith, specifically Christian faith, is deeply tied to stories both cultural and personal.
I grew up in an evangelical church, which meant for many summers I sat around campfires listening to what we'd call "testimony" or "sharing time." These campfires came late in the week, emotions (and hormones, if we're being honest) ran high. We would sing provocative songs about Jesus, love, and forgiveness.
Then the stories would begin. After a while, you began to see a pattern emerge. Students would speak up, one after another.
I was addicted to drugs, and Jesus rescued me. Applause. Then…
I was on drugs and having sex with my girlfriend, and Jesus rescued me. Applause.
I was on drugs, having sex with my boyfriend, and I hated DC Talk but Jesus rescued me.
Okay, the last one was an exaggeration but the escalating testimonies are not. The storytelling became a combat sport, each person trying to dive to a deeper level of depravity.
Yet even in these extremely problematic circumstances, what can't be discounted is the value of the stories. With every account, there was nodding. Everyone is in this together. We are so much the same and in need of the same things.
All need grace.
Wounds need healing.
Without wisdom we are lost.
Regardless of the abuses and stumbles, I consider stories to be gifts. When I steward a person's story during spiritual direction, I pray for the grace to remember how holy those words are. A person who details hurt has gone through a process of doubt and shame before detailing their memories in words.
Stories are a gift because they better the hearer, if they come from a generous and thoughtful heart.
To form and share a story is a deeply formative act. We set our minds on the details, our hearts fill with desire and intention, and we choose the moment and audience with grace and wisdom.
If I'm being honest, the last clause is problematic.
Social media, video, and blogs (like this one) have increased the visibility of our stories and often for the good. However, the abundance of outlets hasn't increased the wisdom of our stories. In fact, our stories must take on otherworldly extravagance and intrigue. They must rival the previous tale around the campfire.
In turn, our stories are no longer gifts but signal flares. Our authenticity becomes marketing rather than transparency. We give our sacred stories away without discretion or pause.
In some stories, authenticity is actually exhibitionism.
During a two-day silent retreat, I remember reading Henri J.M. Nouwen's The Way of the Heart. In this wonderful book about the "furnace of silence and solitude," Nouwen made a statement about our spiritual experiences. Paraphrasing, he said that as we emerge from silence and solitude we should be careful as to how quickly and to whom we disclose our encounter with God.
Why? Because those are stories that are sacred.
Perhaps today our best move would be to first consider the gift that lies within our stories. Our wisdom born from experience over time is water to thirsty people around us. They belong to us. Our stories connect our deepest desires, so to give our stories away is to give a part of ourselves away.
Before we recount that life experience or share that post via an online medium, our prayer should be "How and where is this story a true gift? Am I ready to give this part of myself away?"
May you find your story and live into it, and may you wisely choose where to tell the story that sets others free.
(Photo by Mike Erskine on Unsplash)