This is part two of the post from Monday, talking about two different kinds of spiritual formation or training. Previously, talked about "active formation" that occurs when we make intentional choices, training us for spiritual growth. Today, we cover the other side of the coin – passive formation. 
It Happens To Us
The large majority of spiritual growth comes from the things we experience in life. Often, it comes in the things that happen to us. We feel the sting of unmet expectations. The joy of an unanticipated opportunity comes like a sunbeam on a cloudy Illinois day. A diagnosis of cancer straddles our path, just as we were about to execute our master plan for life.
In those moments, we find the fruit of whatever intentional formation choices we've made. When we are pressed, not by choice but by circumstance, our response  reveals the Spirit that lives within us. These are the hallmarks of passive formation. 
Passive formation consists of our responses to things beyond, and the Spirit behind those responses.
The true brilliance of what Dallas Willard brought to the discussion of spiritual formation comes out in the concept of "training versus trying."
Often our response to the passive elements of formation is to "try harder." When someone presses on that aching nerve, and we feel the anger well up within? Try harder not to be angry. When the ads appear along the side of our favorite web page, welcoming us into intimacy with the image? You simply use force of will against that lust.
Will, But No Power
Willard accurately noted that the idea of willpower is ridiculous. Will has no power of its own. The will – the drives and desires we all have in our hearts – has to be trained. Our spirit drives our will, and when we train our will to sit under the wisdom of Jesus and His spirit, our reactions change.
Trying harder is foolish because the only two results are faking success (legalism) or failing repeatedly (guilt). If trying is our response to every moment of passive formation, then we have opted for a life less than the abundance Jesus breathed into existence (John 10:10).
The alternative is training. Of course, the truth is that active and passive formation have a circular relationship, not a linear one. They flow into one another.
In other words, we can't get into a difficult conversation with our spouse and then say, "Oh, you'll have to excuse me. I need to go train myself to deal with my anger."
You could try that, but I wouldn't count on healthy results.
Instead we take a moment where we receive a challenge (passive formation) and in reflecting on our responses we see where we need training habits and disciplines (active formation).
Driving In My Kingdom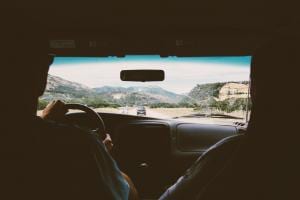 For example, anger typically comes from not getting our way. Lately I've noticed my anger level while driving has increased substantially.  Perhaps that's because no one around me knows how to drive, but…oh, well that's an issue isn't it?
The truth is I want to get somewhere and quickly. In a related story, it appears that those around me are intentionally thwarting my plans to get where I'm going. Therefore there is anger.
Willard calls this the "thwarting of our will," and it is a central discussion for those of us who follow Jesus. Our will can be described as our own "kingdom" and when our "kingdom" is denied expansion, we become angry. However the whole point of life with Jesus is to take our limited and fragile kingdom into God's Kingdom where there is abundance and peace.
I get angry because I'm driving like this is my kingdom.
The interaction between active and passive formation is to genuinely reflect on my responses while driving. Then I bring in training practices that help me cultivate healthier responses when I feel that anger rising.
Training and Driving
One of the best practices for anger is fasting. Again, Dallas Willard's words are helpful because he says fasting trains us to be "sweet and strong when we don't get what we want."
The passive formation process gives us a chance to see where we are bitter and weakly protesting for the sake of our own kingdom.

The active formation response helps us learn that we are horrible and unqualified kings (or queens). We then learn how to live under the rule of a different Kingdom.
Giving up a meal a week, a food that we know we'll miss, or even fasting from technology teaches us to put our impulses in check. The Spirit of Jesus attends to us, teaching the wisdom of not having to control or "win" in every moment. We learn humility. In the process, strength and patience begin to swell.
We're ready for the moment that life presses our anger button once again.
Training Is Both/And
Without both the active and passive parts of formation, we don't see growth. Real life is the playground on which we learn how to relate to God with the legitimate responses in our hearts. Anger, selfishness, prejudice, greed and others make an appearance on the stage of our every day interactions. The question is are we paying attention our responses (passive) and seeking training to respond differently (active)?
If these posts resonate with you but you aren't sure how to craft a plan that combines your active and passive formation, let me know. You can find contact info at my website or simply comment below.
May you see the beauty of both side of the formation coin this week. May the Spirit of Jesus teach you about the very good Kingdom to which we are cordially invited, if only we give up our own little kingdom projects and enter in.