(Today's guest post is by David Hayward)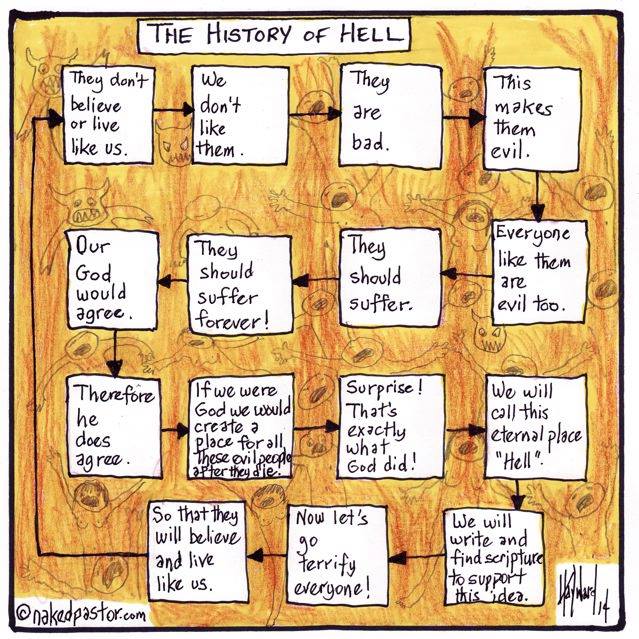 I think a lot about how our ideas arise. How did they start? What human motivation birthed these thoughts? What kind of mentality would explain the emergence of these concepts? What kind of paradigm makes these theologies necessary and sensible?
So I applied some of this line of thinking to the concept of Hell. So somewhat tongue-in-cheek, here are 10 reasons why I would invent Hell:
If I'm going to Heaven, there has to be a place for people to go I don't want there. Therefore Hell!
I'm powerless to punish the guilty, so God will after they die. Therefore Hell!
Life's not fair. The wicked prosper. But only in this life. Therefore Hell!
I can't hurt the wicked, but I can daily entertain fantasies of what God will do to them. Therefore Hell!
It would be embarrassing to meet all my mistresses in Heaven. Therefore Hell!
If I lived in the desert heat, what could be worse? More heat! Therefore Hell!
I don't want my enemies to just die. I want them to suffer. Forever! Therefore Hell!
I need an effective scare tactic to make converts. Therefore Hell!
Because of my dualistic mindset, since there's a God, there needs to be a Devil. He needs a home of his own. Therefore Hell!
I need a really good curse to cast on people I hate, like "Go to Hell!" Therefore Hell!
Check out more of the nakedpastor's cartoons at http://nakedpastor.com
---
David Hayward has a Masters in Theological Studies from Gordon-Conwell Seminary and served as a pastor and church planter.
In 2010 he left the professional paid clergy after almost 30 years of ministry. He is still passionate about how people can find and follow their own spiritual path with courage and joy, as well as in how people can freely gather and form community in healthy ways.
"I want to help people deconstruct without the self-destruct so I started this blog called nakedpastor in 2006. Using the website, I initiated my public undressing of religion, religious community and spirituality through my writings, art and cartoons. Thousands of people are challenged and entertained by nakedpastor every day. I love helping people undress religion to the core essential of their own unique spirituality. This makes me happy!"
David works through his website, www.nakedpastor.com, and The Lasting Supper online community to help support others in their journey to spiritual independence and personal freedom.