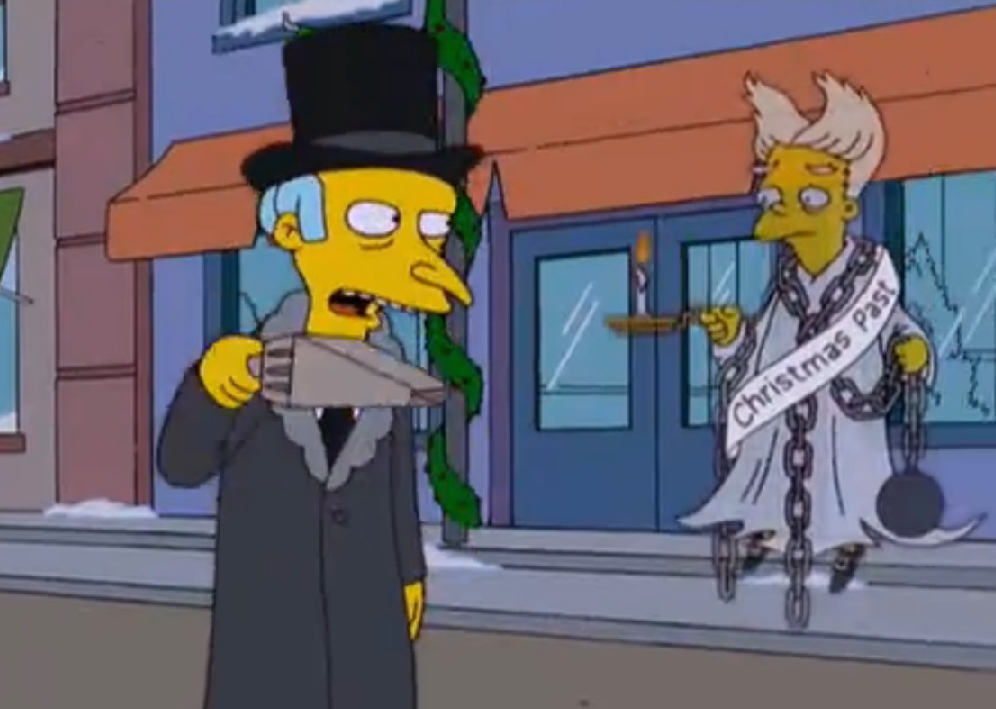 Most of you are familiar with the Charles Dickens classic novella, A Christmas Carol.  One hundred and seventy one years ago (give or take a few days), Dickens first published this book that would redefine Christmas. I remember reading the story as a child and was puzzled by his use of ghosts and, in other Christmas books, death. In the preface to A Christmas Carol he writes,
"I have endeavored in this Ghostly little book, to raise the Ghost of an Idea, which shall not put my readers out of humor with themselves, with each other, with the season, or with me. May it haunt their houses pleasantly, and no one wish to lay it.

Their faithful Friend and Servant,
C. D.
December, 1843″
I don't know about you, but haunt and pleasantly don't seem to belong together. As a matter of fact, haunting isn't pleasant by any stretch of the imagination. Yet for those of us who were former believers, this term may be an accurate description our feelings about the holiday. The songs, the decorations, even the family get-together can trigger feelings of sadness and regret, anger, and loss. As December approaches, the Ghost of Christmas past slips in bringing the memories of a life that many want to forget.
Some experience sadness and regret during this season. The memories of a life devoted to religion causes deep regret because they believe that they should have known better or figured things out sooner. Many feel sadness because they spent so many years of their lives entrenched in a life of service to god. January through November hide the memories more easily than December. Just like Scrooge in the story, the Ghost of Christmas past comes drifting in, forcing us to remember things we'd like to forget.
Others feel deep-seated anger during the holiday season. Non-believers may experience this in many ways: over their own past, frustration at the way the government violates the rights of non-Christians during the holidays, the hurt caused by family and friends who've abandoned them because of their non-belief, and even at atheists who choose to celebrate the holiday. In each instance, Christmas can cause these simmering feelings to the surface.
Finally, the feeling of loss is amplified during the holidays. In my own life, I've struggled with this in a few ways. You see, I lived 44 years of my life immersed in a Christian belief system. Coming out as an atheist and then living apart from my faith has been difficult. My entire existence was defined by religion! After I walked away from god, I realized that I had no idea how to exist without god. So during the Christmas season, it's almost like I'm not sure of how to deal with the holiday without the familiar constraints of religion.
You may think it's weird, but I experience this sense of loss in another way: I miss some of the religious ways to celebrate the season. Advent and Christmas were my favorite times of the Christian liturgical calendar. The beauty, the music, the festive spirit, and the quiet contemplation still stir me emotionally.
One of my favorite Christmas carols was "
O Come, O Come Emmanuel
". Christmas past comes crashing in as the haunting minor melody rings in my ears. I feel a sense of loss when I remember all of those years that brought true feelings of joy. Even though I no longer believe, the memories still exist and are meaningful.
The Ghost of Christmas Past symbolizes our memories. In the book, Scrooge had to remember his past and learn the lessons, both good and bad, from it in order to grow as a person. The light that shines from this Ghost's head represents the illumination which comes from reflecting on the past, and the cap he wears represents the ability each person has to extinguish the light of memory. For us, we have the same two choices. We can bravely look into our past, examine the memories, and begin the process of growth and healing, or we can attempt to snuff them out. But the only way to move beyond the 'haunting' of the season, and our life, is to deal with the Ghost of Christmas Past.
After almost three years, I think I've made peace with my past. My
home is decorated from top to bottom with lights, garland, and all the holiday trimmings. When I hear the familiar carols, I sing along at the top of my lungs! Being with my family, giving gifts to those I love, eating all the tasty treats, and enjoying the beauty of the season has replaced the sadness, anger and regret, and sense of loss in my life.
Over the last few weeks, numerous arguments have cropped up about whether an atheist can, or should, celebrate Christmas. I think that the answer to that question is simple: each person makes their own decision. In 2012, Elisabeth Cornwell wrote a wonderful article entitled A Very Atheist Christmas. Her words sum up the reason many non-believers choose to celebrate this season.
"Christmas belongs to anyone who wants it, and just because I gave up believing in a god doesn't mean I gave up believing in the love and joy of family. I did not give up the joy of celebration with my abandonment of the absurd. So to my religious and non-religious friends, I wish them all a Merry Christmas or a Happy Hanukkah from the heart and I hope they take it with the true spirit with which I give it – that of the spirit of humanity – something we can all celebrate." 
The Ghost of Christmas Past comes to take us into the beautiful and difficult places in our memories. Instead of resisting the journey or trying to extinguish the flame of illumination, let's choose to bravely look at what haunts us. By dealing with these memories, we're giving ourselves the best Christmas present ever: freedom from the fear, frustration, hurt, and pain of our past!