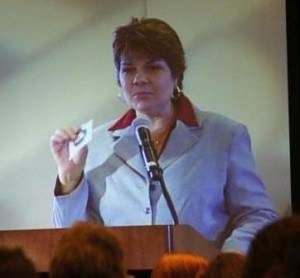 Three years ago, I stepped onto the stage at the American Atheists Convention as "Lynn", took off my name tag, and came out publicly as an atheist. It was one of the most terrifying and liberating experiences of my life! Much to my surprise, everyone in the audience applauded, wept, and cheered as I spoke. "Lynn" may have walked into that auditorium, but Teresa walked out!
I'll never forget Sarah Morehead and several friends from The Clergy Project standing nearby giving their encouragement as I shared my story, nor will I forget David Silverman running up on the stage to embrace me in that moment.
From that moment forward, you've all been there for me through the best of times and the worst of times. I am truly grateful for each of you and can't imagine my life with you.
https://youtu.be/WgDm8w0-IwY
As soon as I walked off the stage, hundreds of people were standing there…waiting for me! I couldn't believe my eyes. For several hours, you shared your stories, hugged me, encouraged me, and just loved me. It completely changed my life!