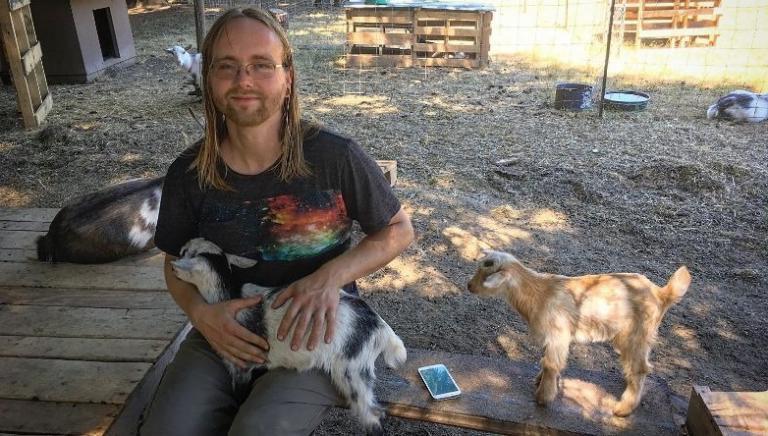 Before I get into my deconversion story, let me introduce myself: my name is Joe Omundson and I am the new editor of Ex-Communications! I'm really excited that the excellent folks at Recovering from Religion brought me on board.
I got a degree in engineering physics and worked as an electrical engineer for a few years, but in 2014 I quit my career to hike 2,650 miles along the Pacific Crest Trail, from Mexico to Canada. It took me two summers and it ruined my life in the best way possible.
I never went back to the professional realm. Instead I adopted a nomadic, vehicle-dwelling lifestyle, first out of an '81 VW Rabbit, then a minivan, and now I live in a shuttle bus that I'm converting. Most of my time is split between Portland OR, Moab UT, and AZ/CA. I enjoy backpacking, hitchhiking, metal and electronic music, buffets, spending way too much time on the internet, and diving deep into personal and philosophical conversations.
I began blogging a few years ago. One of my blogs contains my ideas about life and one is about me and my lifestyle. As a writer, sacrificing money for personal freedom is a trade-off that makes sense to me. I pick up seasonal jobs and live extremely frugally so that I have plenty of free time to think about life and explore what interests me.
Last year I created another blog with the goal of helping people share their deconversion stories, which is how RfR found me, and when they told me they needed an editor to do exactly the kind of work I was already doing it was an easy decision to accept the role.
Do you have a personal story of deconversion you'd like to share? Have you written an insightful essay about the effects of belief and religious systems in general? Please consider sending in your writing for publication on this blog! I'm collecting submissions now and will begin posting regular twice-weekly updates sometime in September. Email me at blog@recoveringfromreligion.org and I will be happy to help you write the best version of your story. Even if you don't want anything published, I'm happy to trade emails with anyone who wants to talk.
Many believers can't imagine questioning their faith, and many lifelong atheists can't understand why someone would believe in the first place. Those of us who have experienced a change in belief offer a unique perspective. Let's work together to raise awareness of how religion impacts our lives.
---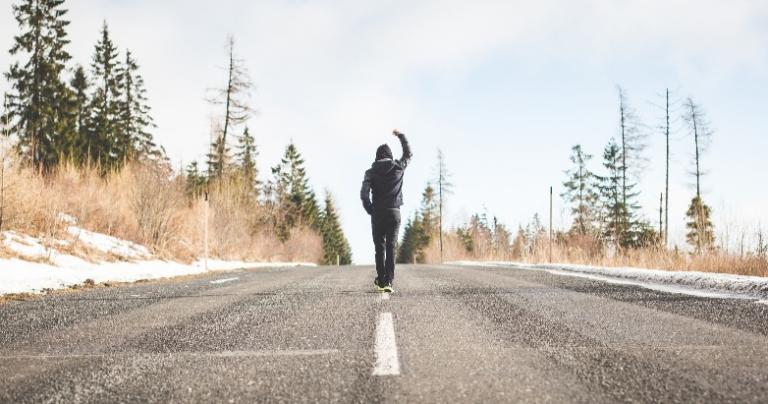 I was raised in a Christian home (Baptist, then non-denominational) and took it seriously from a young age. Like most children, I trusted that the adults in my life were telling me the truth. I wanted to believe what was right. I paid attention.
My parents divorced when I was 12; I devoted myself to God more fully in order to avoid their mistakes. At age 15 I had an open heart surgery and I invested heavily in God's promise of heaven to help me face the possibility of death. After high school, I followed the suggestion of a youth pastor/mentor and went to a one-year Bible program in Europe. My "relationship" with Jesus was the most important thing in my life. I believed that his truth took precedent over everything else.
Ironically, Bible school is where my faith began to unravel. I couldn't ignore the fact that diving deeper into the Bible raised far more questions than answers. Despite endless seeking it seemed like God was absent from my life in any practical way. There appeared to be no good reason to believe that any of the theology was real.
Stuck in a two-part cycle
First, I would go through a phase where I would devote myself to prayer, worship, and reading the Bible, trusting that if I sought God he would find me. I wanted so badly for it to work. I envied my fellow believers who seemed to experience God's love and guidance in a tangible way. For me it was nothing but silence.
After a time I would feel burnt out and I'd reflect on how God's love is meant to be a gift rather than something I needed to work hard to achieve. I figured I needed to "let go and let God [lead the relationship]".
In the second phase of the cycle, I'd listen and wait for God without all the striving. Surely God could get through to me when I was still and listening.
Yet after a time of hearing nothing I'd start to feel a panic that my faith was slipping, and I'd worry that I was foolish for neglecting God or putting him to the test. I'd resume my seeking and the cycle would begin again.
After my year at Bible school I returned to the States, attended my first year of university, and married my girlfriend who I'd been dating since high school. The questioning grew more intense; the cycling became traumatic. If being saved was as powerful as Christians said it was, it shouldn't have felt so tenuous. I realized the cycle had to stop.
I couldn't remain in the actively-seeking phase, because I didn't have the energy to sustain something that felt so empty. It also felt like self-brainwashing. I decided to wait for God. As best as I could tell, I had done everything I could, for years I'd earnestly tried to be in a relationship with him so I figured if he wanted to reach me it was well within his power. It couldn't be up to me anymore.
Letting go
It was scary as hell to wait on God and watch my faith fade away. But I knew nothing would be different if I turned to him again, and I'd be going against every piece of evidence that was available to me. There was never a day when I rejected God. I just waited. The longer I neglected the trying-to-believe part of the cycle, the more I realized that the world operated exactly how I'd expect it to if there were no God. Despite this, I sincerely hoped God would change my mind.
If I couldn't trust my own senses, what else was there? Don't people all around the world become convinced that their native religion is true because they believe without evidence? If God's truth is so overwhelming, shouldn't it be evident without a great deal of blind faith in insubstantial ideas?
Eventually there came a day at age 21 when I realized my true beliefs about the universe didn't include anything resembling Yahweh, and that this was something I had to accept. Not long after that I wrote a long email explaining my thought process to my wife and my parents. Amazingly, my wife was on the exact same page. We had the privilege of supporting each other throughout the deconversion process (we ended up divorcing in our mid-20s for unrelated reasons). My parents took it relatively well, too. I'm one of the lucky ones who didn't have a miserable experience with my immediate family.
Life as an ex-believer
I can't say I ever missed being a Christian. It was a relief to drop such an irrational burden and gain the freedom to live life my way. Most of the work I had to do post-deconversion was about rethinking the idea of "sin"; reestablishing my ethics in something more realistic; accepting that my individual consciousness won't endure forever; and rewiring my brain from the sexual trauma I suffered because of purity culture.
It's an ongoing struggle to accept that I am worthy exactly how I am. I was told my whole childhood that my soul is intrinsically disgusting without an external figure to love and save me.
It's been almost 10 years since I officially renounced my faith, but only in the last couple years have I started to join ex-religious groups. Talking about religion doesn't trigger me as much as it used to. I'll always have full empathy for people going through this process. I'm so excited to be working on this blog because I want to help people with shifting beliefs feel proud of their life path, and to help others who are questioning their beliefs know that they're not alone: there are ways to get through this transition and find a happier, healthier life.