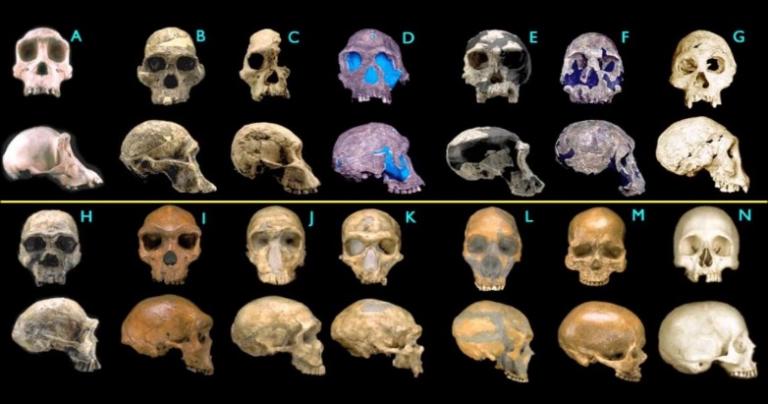 By guest author Suze Ambs.
The reasons why I have left my old religion are numerous, and they keep multiplying and being affirmed the more I study with unbiased eyes. Here, I will share just one reason.
I was never very educated about evolution. I thought it was simply the scientific guesswork that humans came from apes because we have similarities. I had done some research, but I never noticed that when I read non-Christian explanations, deep down in my psych I was secretly looking for ways to dismiss them as false. I can be honest with myself now and realize I wasn't looking for truth. I was looking for affirmation.
Learning Without Bias
I've recently come to understand that we have the bones of our ape-like ancestors slowly evolving into modern-day humans. We can line them up. It is clear. Yes, it's mind-boggling, but it's clear. While there are naturally things we still do not understand yet, the evidence shows us that this somehow happened. The theory of evolution is science investigating into how exactly this happened. Not if it happened. We also have the bones and fossils of many other animals evolving into other species. We can see remnants of limbs and bones that they no longer have need for.
Evolution is not a theory, even though science humbly calls its discoveries about how things work 'theories'. You probably don't want to test the 'theory' of gravity by jumping off a building. We have the evidence that it happens even though we sometimes don't fully understand how yet. Scientists are constantly learning and putting more pieces together. You can stay updated on evolution discoveries and news here.
Evolution is not something humanity could (or did) dream up for themselves, unlike how they have done with many different gods and their stories. Creating various superhumans in the sky to help explain the mysteries of life is all humans have ever been able to fathom. Evolution, by contrast, is not man-imagined but man-discovered. Evolution is totally out of the box, unexpected and incredible.
However, something else I've come to learn is: many people will never accept what they simply do not want to accept.
Just Plain Wrong
The Bible says that God created man and woman, separately from the animals. Uniquely, in his image. It records that he made all the animals as distinctive entities. That he did this by making man from dust and woman from man's rib. Genesis records that Adam and Eve sinned by eating the fruit, and therefore separated humanity from God.
However, the proof that we can now hold in our hands tells us that humans evolved from other species. The Bible is evidently incorrect when it records in fictional narrative that humans were created from dust and a rib, as unique entities. Part of evolution, Microevolution, (species changing in qualities) is constantly being demonstrated to us, whereas macroevolution (species changing into another species) takes millions of years so we cannot expect to see that in action. However, we do have the fossils to prove that it eventually happens.
The multitude of fossil discoveries prove that the creation story is not literal history. Most importantly, if you wave the creation story as metaphorical you are still left with the bigger problem. Not only have the majority of Jews and Christians throughout the past millennia had faith in the creation story as literal history, the founders of Christianity also had faith that the story of Adam and Eve was literal history.
The Nail in the Coffin
It was drawn to my attention that the Apostle Paul refers to the events in the story of Genesis as the context and reason for the savior. In fact, Paul emphasizes this logic repeatedly: the man Jesus came to fix what the man Adam broke.
'Therefore, just as sin entered the world through one man, and death through sin, and in this way death came to all people …

'death reigned from the time of Adam …

'For if the many died by the trespass of the one man, how much more did God's grace and the gift that came by the grace of the one man, Jesus Christ, overflow to the many! …

'Consequently, just as one trespass resulted in condemnation for all people, so also one righteous act resulted in justification and life for all people. For just as through the disobedience of the one man the many were made sinners, so also through the obedience of the one man the many will be made righteous.'

(Romans 5:12, 14, 15, 18-19)
With the benefits of modern abilities into research and excavation, we now know that ancient cultures throughout history, including Jesus and Paul themselves, were wrong. Humans evolved. Humans were not created as a unique entity. Paul (who claimed revelations from God as author of a large percentage of the New Testament) and Jesus (often claimed to be God himself) were utterly and completely wrong about the beginnings of humanity! Unfortunately for Christianity, they based their theology on the belief that their culture's mythology was literally true. Here is the crux of it: No Adam means Adam could not commit the original sin, separating us from the Judeo-Christian God. No 'one man' Adam separating us means no need for 'one man' Jesus to reconcile us to the Judeo-Christian God.
When we put these things together, the very premise of Christianity comes crashing down like a domino effect. And this is by tangible proof we can hold in our hands, not by debates in subjective, human reasoning. Creationist fundamentalists know this is the achilles heel of their faith and they refuse to accept evolution. Their faith is ultimately more important to them than evidence.
Accepting What Is
I'm relieved to no longer believe that the salvation of a person's soul essentially depends on winning a game of hide and seek with God. How awful that a divine force would stake such a thing a the eternal welfare of a person on their ability to guess which religion is correct! Instead, surely it is obvious why each religion argues (even bribes and threatens) for its supremacy.
So I discount the religion I used to follow without question. Despite my remaining questions about life and cultural conditioning to believe, I can never go back if I trust evidence over feelings. Fossil discoveries prove that the Adam and Eve story (which is the biblically-explained need for Christianity) is simply one more creative work of ancient mythology.