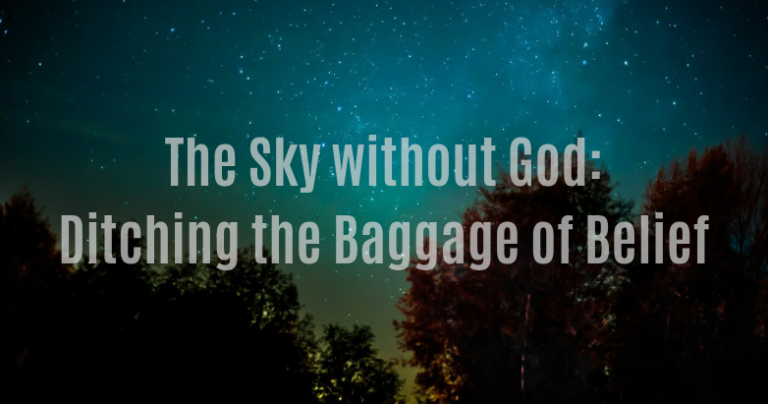 My belief in God, and my introduction to religion, began when I was four or five years old. Instilled in me was a sort of non-denominational conservatism. I knew that I was supposed to honor my mother and father. I knew, even then, that I was supposed to be sweet, chaste, and innocently compliant. There was a heaviness to these responsibilities that fell in step with my genetic predisposition toward anxiety.
God was to be my champion against all the evils of this world (and the next) for as long as I pleased him and beseeched his forgiveness. I was made aware of the cruelty and danger of demons and Satan early in my belief. The monsters under the bed were laughed away as childish fiction while the monsters of Hell materialized into every shadow and feeling. Who needs the bogeyman when you have Satan?
These fears haunted me throughout my childhood and into my early adulthood. I felt unsafe often and cried myself to sleep many nights while praying. Although it was claimed that God loved unconditionally, it seemed like there actually were some conditions, and I was always afraid of being found wanting by my holy protector. Looking back, I know that what I thought were demons were actually panic attacks and episodes of high anxiety while I was alone. Hindsight has granted me clarity, but it can't change my experiences.
When I felt the most anxious, I would go outside and walk to the woods. I needed to be surrounded by trees. It didn't matter to me if the trees were sleeping through a gray winter or bedecked in green or autumnal foliage. What mattered most was being amongst living beings who merely lived. In the woods, even the small patches that persevered in my suburban neighborhood, God and Hell fell away. I felt neither protected nor in need of it. I felt like myself without dogmatic constraint.
I didn't realize all of that at the time. I didn't really think about the heaviness of religion or my perceived responsibilities to it when I was in the trees. I felt inexplicably lighter. The air came into my lungs more easily, sometimes scented with pine or smelling of brackish tide pools. There were birds and tall trunks that branched into a blue expanse with no limit. It was just me in a world that seemed so big and so old.
As it turned out, that world was too big and too old for God. I sensed the dawn of time in the sun and the smallness of humanity in the sky. Glimpsing the awesomeness of every living being in those woods with me was profound, because not only was I seeing what we were then, but what came before us. I shared an experience with my genetic ancestors in those moments, and I noticed that connection. I shared an experience with those others living around me in the patch of forest. We were all there together at the same time, all breathing, all flowing from one minute into another. And we were doing it without religion. We just were.
These moments of freedom and peace inspired me hundreds of times and have continued to move me. My respect and sense of gratitude for merely existing has brought me through many hard experiences, including the realization of being a nonbeliever. As I've grown, I've learned to embrace joy in so many forms, and I've discovered that helping others to experience peace and happiness is sacred to me.
For all of these reasons and more, it is a great privilege for me to direct the Fall Excursion. I believe that this world is a treasure and that this life is important. I believe in the vastness and mystery of the oceans and the universe. I believe in the human experience and that we must hold tight to each other, as we can, and share as much goodness as can be had while we are here.
Many religions would implore you to find their deity in our environment, but that never happened for me. Instead, I found the best parts of myself. The peace of my surroundings allowed me to ask big questions and to wonder. This fall, I am excited to invite others to do the same along with me and many other Recovering from Religion volunteers and attendees as we converge together on our similar journeys.
Doubt, feelings of isolation, guilt, and shame are pieces of luggage with which I am familiar, and they can be hard to unpack alone. However, I have found, as I hope others discover too, that this baggage got lighter as I encountered others on the same road. Every story from someone else was an affirmation of my own experience. It took years to get here, but I feel like I'm finally on the other side of that dark tunnel and that I've set down the baggage of a religious upbringing.
I've found personal fulfillment in volunteering for Recovering from Religion, and I encourage as many as would like to join our ranks to apply, but I also know that we must each find our own way. One of the main goals of the Fall Excursion is to help people set down their baggage and find their own sense of happiness and  fulfillment. Recovering from religion isn't just about surviving the ordeal of changing beliefs, but about what you are able to do and how you are able to live after you've shed what no longer suits you. There are so many possibilities and opportunities for those like us.
Please visit our website to learn more about the Recovering from Religion Fall Excursion. It is our goal to help as many people as possible, and we welcome donations made to help subsidize attendance for others who need assistance. Thank you for joining me as I've told you some of my own recovery tale, and I hope to see you sometime under the sky and trees.