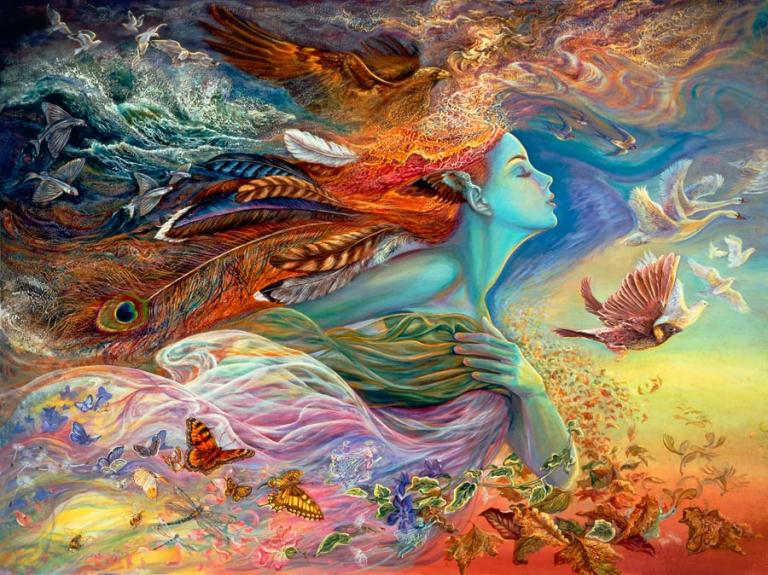 Image by Josephine Wall.
Article by Amara —
---
Let's face it. We all could use a little therapy. Childhood trauma sounds like it should be devastating, but sometimes it can be disguised as what everyone thinks is a normal upbringing. A person doesn't have to endure physical abuse to end up with mental scars from childhood that have an effect on our daily lives.
There's also the emotional toll interpersonal relationships impose on us throughout the years. Each encounter can be a lesson on how to behave with other people. Sometimes, the lessons are helpful. Other times, well… those encounters are how we all end up with coping mechanisms that are more detrimental to our mental health than they are helpful.
You might be wondering why I'm spouting this depressing drivel. Well, after 27 years on this planet, I decided to go to therapy and had to face a lot more than I ever expected. Three years later, I would like to share my journey and some of the things I have learned.
Why did I make the decision to seek out therapy?
Looking back on my life, I can tell now that I had depression since I was a teenager. I slept all the time, found excuses to stay home, avoided interactions, etc. I also was still heavily indoctrinated in Christianity. The Southern Baptist variety where we stuck to the Bible like it was a "love letter from God" and took most things literally. I was taught the Garden of Eden was a real place and that Adam and Eve were the first humans. I never even questioned the logic behind any of the stories I had been told.
I used my religion as a shield against dealing with my emotions. I thought I shouldn't be sad because God had my back. There was no reason on the planet for me to be upset. Not even when my own biological father blatantly chose to not be a part of my life. Because I had God as my father, right?
What I didn't realize was that denying my emotions removed my ability not only to identify what was happening in my mind but it also stopped me from truly allowing myself to be vulnerable and connect with others. I spent years in unsuccessful relationships believing that I had done my best. At the time when I finally decided to go to therapy, I had already given up my religion but the idea that I had no real reason to be upset or sad was still ingrained into my method for dealing with life. I was happy with my relationship, had a great job, doing well financially, and had the sweetest, coolest kid on the planet as my son. Life should have been grand, right? It wasn't.
I was unconsciously isolating myself from my significant other and my child. I was avoiding emotions like the plague. I ignored dirty dishes and taking out the trash because I just did not have the mental capacity to put in the physical effort of cleaning up. I was keeping it together at work but shied away from really forming friendships and attachments. I could smile and joke around like everything was fine but as soon as the person walked away from my space, I put in my headphones and blocked out both the world and my own dark thoughts.
I never got to the point of wanting my life to end. I knew my son depended on me for everything and I couldn't leave him in this world alone. However, I was pushing away everyone close to me so much that I was leaving him alone even while I was right there next to him. Once I realized how much I had stopped talking to the people I cared about, including close friends, I knew I had to do something. What I had been doing for my entire life wasn't working anymore.
How I found the Secular Therapy Project
I adore The Atheist Experience. I found it through The Thinking Atheist podcast videos, featuring the smooth, perfect-for-radio voice of Seth Andrews. Once I found the types of discussions Matt Dillahunty was having with people who called the show, I was hooked. I happen to have a natural inclination towards debating and I learned a lot about philosophical arguments and logical fallacies from the discussions Matt had with callers. My mom always said I would argue with a brick wall by beating a dead horse. If I thought I was correct and had sources to back up what I said, I would be able to argue every point against another person to the point of being obnoxious.
So, The Atheist Experience show was fascinating to me. I remembered an episode where Matt was talking about Recovering from Religion, the Secular Therapy Project, and The Clergy Project. I figured I would give that a shot first before trying to find a therapist by other means. To my delight, my home town had exactly ONE therapist registered with STP. One may be the loneliest number but it was perfect for me.
Why STP is the shit
Signing up for STP didn't take long. The fantastic part about STP is that all of the therapists are vetted by Recovering from Religion and use evidence-based non-religious treatment plans. I didn't have to worry about finding a therapist who was going to recommend I "take it to God" or "just pray about it". I was able to look within a certain radius of my area and put in a basic description of the issues I was having. The therapists are kept anonymous while you are exchanging messages within the system. I understood it was to protect both of us.
After a few messages, I got my therapist's contact information and filled out a form to begin therapy. We were even able to use my insurance to pay for the majority of visits throughout the year. Because I live in the deep south, it is imperative to have both parties consider safety. I won't name my therapist but I will say he is absolutely fantastic and has helped me in so many ways. He remains professional but also makes me feel at ease. He's also pretty funny (even if it is in the most corny, dad joke kind of way). He always checks in to make sure what he is doing is helpful for me and truly listens to understand even when I'm making zero sense. The resources he has recommended have been invaluable. When I do have to pay by the session, it's a reasonable price and doesn't empty my bank account.
Link to STP
I will be continuing my story with some of the specific topics addressed in my journey with my therapist. However, for anyone who is in need of a professional level of help, please consider going through Secular Therapy Project.
Recognizing the need for a trained counselor is NOT something that should cause any shame. I have been very open about being in therapy and I brag to anyone who will listen about how much being in therapy has helped improve my life and relationships. I am a much stronger person than I used to be and have developed coping mechanisms that I never had the chance to before.
Taking care of your emotional and mental well-being is the best form of self-care anyone can do. I highly recommend it and encourage anyone reading and identifying with any part of my story to just check it out. It's never too late to take care of you.