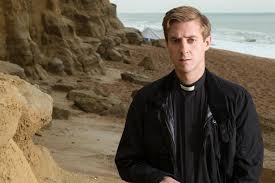 I've had a major crush on British actor Arthur Darvill since his days playing Rory on Doctor Who, but the UK series Broadchurch – which will air soon on BBC America and is getting an eventual American adaptation – made me appreciate his hotness on a whole new level.
Broadchurch is a ten-episode series about the murder of an eleven-year-old boy in a seaside town in Dorset. There are plenty of red herrings and people with mysterious pasts living in this small town, but the series is quite compelling thanks in large part to the cast, led by David Tennant. Darvill's character Paul is the local vicar, and after tending a mostly disinterested congregation he finds himself suddenly thrust into the spotlight as he helps the town heal. Of course, since basically everyone on this show is a suspect, he's also a suspect.
And hot. Did I mention hot? Few things are hotter than a nice tall man who is respectful to women and good at accounting.