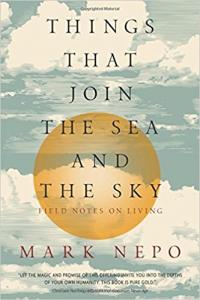 Things that Join the Sea and the Sky
Field Notes on Living (Sounds True, 2017)
Summary:
The Universe holds us and tosses us about, only to hold us again. With Things That Join the Sea and the Sky, Mark Nepo brings us a compelling treasury of short prose reflections to turn to when struggling to keep our heads above water, and to breathe into all of our sorrows and joys.
Inspired by his own journal writing across 15 years, this book shares with us some of Mark's most personal work. Many passages arise from accounts of his own life events—moments of "sinking and being lifted"—and the insights they yielded. Through these passages, we're encouraged to navigate our own currents of sea and sky, and to discover something fundamental yet elusive: How, simply, to be here.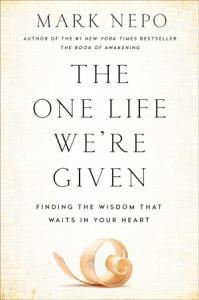 The One Life We're Given
Finding the Wisdom that Waits in Your Heart (Atria Books, 2017)
Summary:
By fully living the one life we're given, we're led to the wisdom that waits in our heart. There is no other way. To make the most of being here, we're required to learn when to try and when to let go. This is our initiation into grace. The gift and practice of being human centers on the effort to restore what matters and, when in trouble, to make good use of our heart. No one quite knows how to do this, but learn it we must. Our path to love and truth depends on this journey. The One Life We're Given points to how we might truly inhabit the one life we're given: by getting closer to life, loving what you do, finding what can last, and by being kind and useful.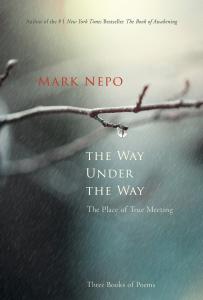 The Way Under the Way
The Place of True Meeting (Sounds True, 2016)
Summary:
When we shift from trying to be special to seeking what is special in everything, we discover "the way under the way"—the timeless terrain of that mysterious force which animates and unites us. The Way Under the Way brings you a sweeping three-part collection of 217 of Mark Nepo's original poems and essays to open the heart, awaken insight, and support you on each step of your unique journey through life.
Inside the Miracle
Enduring Suffering, Approaching Wholeness (Sounds True, 2015)
Summary:
In the midst of our most trying circumstances lives a miraculous gift-a healing process that shapes our journey of becoming our better, more wholehearted selves. With Inside the Miracle, bestselling author Mark Nepo presents his latest book, offering a collection of poems, reflections, and essays that explore how we can inhabit the endless reservoir of aliveness that abides within our most difficult challenges. Speaking with the authenticity and compassion of one who's been there, Mark relates his own journey through cancer to share hard-earned lessons for everyday living and insights into how we can each find the resilience and medicine that waits to be transformed out of our suffering. For anyone grappling with serious illness or a dramatic life transition, these wise teachings help us access the courage and grace to face our situation "head-on and heart-on," one step at a time.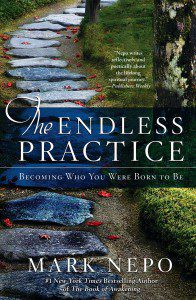 The Endless Practice
Becoming Who You Were Meant to Be (Atria Book, 2015)
Summary:
Called one of the finest spiritual guides of our time, Nepo explores what it means to become our truest self as we face life's challenges—as well as its joys. Navigating some of the soul's deepest, most ancient questions, he asks: How do we stay vital and buoyant amid the storms of life? What is the secret to coming alive? The soul's journey is inevitable, and no matter where we go we can't escape this foundational truth: What's in the way is the way. As Nepo writes, "The point of experience is not to escape life but to live it."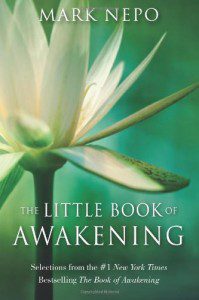 The Little Book of Awakening
Selections from the #1 New York Times Bestselling The Book of Awakening (Conari Press, 2013)
Summary:
The Little Book of Awakening takes some of the very best wisdom from The Book of Awakening and distills it into a set of weekly readings. Each week explores a theme, such as abundance, awareness, blessing, interdependence, presence, opportunity, being heard, being real, and facing our suffering. Nepo writes about spirit and friendship, urging readers to stay vital and in love with life, no matter the hardships. Encompassing many traditions and voices, his words offer insight on pain, wonder, and love.
The Book of Awakening
Having the Life You Want by Being Present to What You Have (Conari, 2000, 2011)
Summary:
Philosopher-poet and cancer survivor, Mark Nepo opens a new season of freedom and joy–an escape from deadening, asleep-at-the wheel sameness–that is both profound and clarifying. His spiritual daybook is a summons to reclaim aliveness, liberate the self, take each day one at a time, and to savor the beauty offered by life's unfolding. Reading his poetic prose is like being given second sight, exposing the reader to life's multiple dimensions, each one drawn with awe and affection. The Book of Awakening is the result of his journey of the soul and will inspire others to embark on their own. Nepo speaks of spirit and friendship, urging readers to stay vital and in love with this life, no matter the hardships. Encompassing many traditions and voices, Nepo's words offer insight on pain, wonder, and love. Each entry is accompanied by an exercise that will surprise and delight the reader in its mind-waking ability.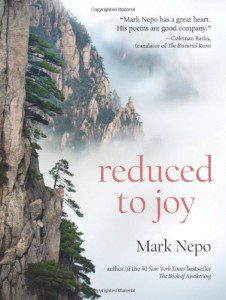 Reduced to Joy
(Viva Editions, 2013)
Summary:
Mark Nepo is emerging as one of the truly significant writers and thinkers of today. Nepo has a singular way of distilling great truths down to their essence. Moreover, during his cancer journey, Nepo relied on the power of expression and the writing process to keep him tethered to life. In Reduced to Joy, Mark Nepo explores the places where pain and joy are stitched to resilience, uncovering them with deep wisdom, poetic passages and personal revelations. Nepo reminds us all of the secret and sacred places within, forgotten in the noise and chatter of our busy distracted 21st Century lives. Reduced to Joy is a lesson in stillness, in standing in the mystery and, above all, in the work of love.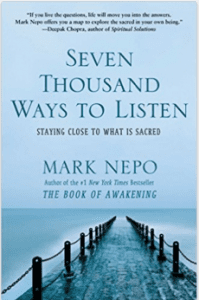 Seven Thousand Ways to Listen
Staying Close to What is Sacred (Simon & Schuster, 2012)
Summary:
In Seven Thousand Ways to Listen, Nepo offers ancient and contemporary practices to help us stay close to what is sacred. In this beautifully written spiritual memoir, Nepo explores the transformational journey with his characteristic insight and grace. He unfolds the many gifts and challenges of deep listening as we are asked to reflect on the life we are given. A moving exploration of self and our relationship to others and the world around us, Seven Thousand Ways to Listen unpacks the many ways we are called to redefine ourselves and to name what is meaningful as we move through the changes that come from experience and aging and the challenge of surviving loss.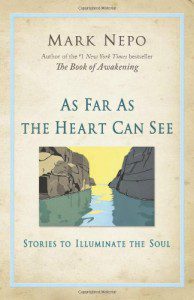 As Far As the Heart Can See
Stories to Illuminate the Soul (HCI, 2011)
Summary:
Stories carry the seeds of our humanness. They help us, teach us, heal us, and connect us to what matters. As Far As the Heart Can See is an invitation to be in relationship with deep and life-giving material. Poet and philosopher Mark Nepo reaches people through their hearts, bringing something fresh and new to the field by stimulating change through reflection of thoughts and feelings. The stories he shares in As Far As the Heart Can See come from many places–from Nepo's personal history to dreams to the myths of our ancestors. Each one is an invitation to awaken an aspect of living in relationship with the sacred.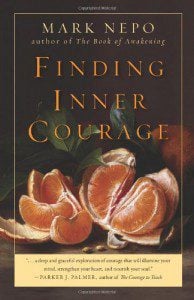 Finding Inner Courage (Conari, 2011)
Summary:
In this book, Mark invites readers to explore their own inner core through the stories of ordinary people, political activists, artists, spiritual teachers from a variety of traditions. These are people who have faced themselves, their warts and weaknesses. They have stood by the courage of their convictions in all kinds of moments, great and small. Nepo's insights and commentary are spot on, and help readers relate the stories of others to their own lives. The book is divided into three sections–finding our inner core, standing by our inner core, and sustaining the practice of living from that place. Each of the nearly 60 brief essays and stories elucidates and inspires. Nepo's broad range of stories and people, of traditions and insights, offers myriad ways for readers to relate to their own search for courage.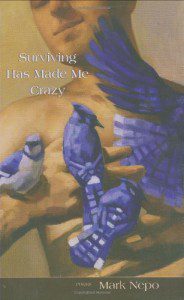 Surviving Has Made Me Crazy (CavanKerry, 2007)
Summary:
Poet and philosopher Mark Nepo was diagnosed with a rare form of lymphoma in 1987. His journey back to health awakened a new life. In his latest book, Nepo explores how sacred and useful everything is. As such, this book is for everyone, not just for those facing illness or pursuing poetry. The poems affirm that surviving has more to do with our authenticity than our longevity. The sixty-eight poems gathered here are the culmination of many years of inquiry. As a teacher, Nepo has journeyed with others around these themes across the country and abroad. In leading spiritual retreats, in working with healing and medical communities, and in his teaching as a poet, his work is widely accessible and used by many.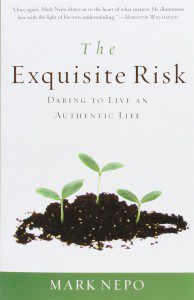 The Exquisite Risk
Daring to Live and Authentic Life (Harmony, 2005)
Summary:
In these fast-paced times, the exquisite risk facing each of us every day is to slow down and "still our own house" so that we may experience life rather than simply manage it. In The Exquisite Risk, poet and teacher Mark Nepo encourages readers to become quiet enough and open enough to listen to what truly matters—our own hearts, our loved ones, the wonders of nature—in order to live a life with nothing held back. In rich, lyrical prose, Nepo shares his own spiritual path, including a battle with illness that helped him understand how only by daring to embrace all that life has to offer can we come to a deeper appreciation of its meaning and beauty.
Suite for the Living
Inhabiting Wonder
Deepening the American Dream: Reflections on the Inner Life and Spirit of Democracy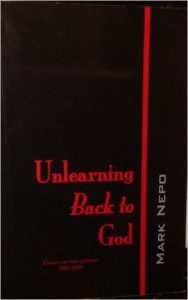 Unlearning Back to God
Essays on Inwardness, 1985-2005 (Khaniqahi Nimatullahi Publications, 2006)
Summary:
The collection before you is the trail of my attempts over the last twenty years to experience and understand the nature of this mystery we wake in every day. These twenty-one essays contain seeds of inquiry that I have pursued much of my life. None of these attempts were created in a vacuum, but each represents how ideas can grow over time with their own sense of alchemy in the crucible of dialogue and sincerity. In that regard, this book of attempts is akin to a live recording and I hope you can feel the presence of others in and around the words. Much like a stone that has been worn by years of the stream, what is here is the one stone revealed by the current''s scouring. (Mark Nepo)
Acre of Light (now out of print) is available as an audiotape from Parabola under the title "Inside the Miracle")
Fire Without Witness
God, the Maker of the Bed, and the Painter
Mark's work has been translated into twenty languages, including French, Portuguese, Japanese, and Danish.