by Alexei Laushkin
The disciplines of Lent are meant to shake us up from our regular routine and open up some space for God to work. Lent is a season of self-account and renewed depth.
Lent reminds us that man does not live on bread alone, things alone, conveniences alone, wants alone, but on every word that comes from above. Lent is supposed to re-orient us towards God's life giving ability, and away from the things that normally sustain us or give us comfort.
When we rediscover the joys of the Lord, the depth and life giving work of the Holy Spirit, and the life of Jesus, than we are more able to give. Give of our means, give of ourselves, and give of our talents. When we discover the abundant life and abide in the vine, we are able to be generous and fruitful, even as we recognize the generosity of the Lord in our own lives.
The traditions of Lent call us towards simplicity, fasting, and refraining so that we might draw closer to the Lord and be more able to give of our time, finances, and of ourselves so that others might have life and peace in the Lord.
So how might our deep concerns for God's creation be expressed during the season of Lent?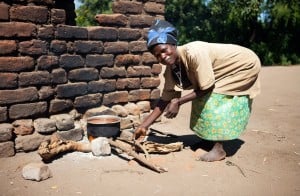 We might consider refraining or reducing our reliance on energy, water, and light so that we might remember those for whom such conveniences are not available. No one is required to do so, but it may help us understand the realities of many Christians living in rural poverty across the globe.
But you might ask what is the use of depriving myself? How will me having less make any difference for those who have nothing at all?
Like fasting, or Lent more generally, it's to reorient our hearts and compassion towards those whose realities are much different than our own. In a way we are in a very limited respect stooping down and entering into a world and life unlike ours so that we might more fully and accurately consider what the Lord would ask of us in terms of supporting meaningful and transformative change for those who are unable to change their circumstances by their own effort. Even if we are unable to give of ourselves, of our time, and of our talent we ought not to neglect the power of prayer to work in the world. Giving ourselves to prayer is foundational to the work of the kingdom among the poorest of the poor.
There are many good and important initatives that you might consider supporting. Including World Relief, I-61 Ministries, and Word Made Flesh. These groups encourage relationship building with those whom they are ministering to. Building lasting relationships congregation to congregation I think is so key and essential to really developing a heart and sustaining interests in the least of these. For as much as you can minister and provide for them, they can minister and provide for you.
If you are creation-care minded you might consider supporting the work of the Evangelical Environmental Network (EEN). EEN is partnering with New Vision Renewable Energy to build a long term relationship with Eagles Relief and Development in Malawi and MOPAWI in rural Honduras. Our hope is to provide church to church innovative solutions for energy, water, discipleship equipping, and business based development. You can click here to learn more.
You might consider fasting from your energy, water, and light needs so that you can be even more generous in your giving this Lent. Learn more about some of EEN's Lent resources by clicking here.
http://www.youtube.com/watch?v=myyXvyev_ko
Alexei Laushkin is the Vice-President of the Evangelical Environmental Network.