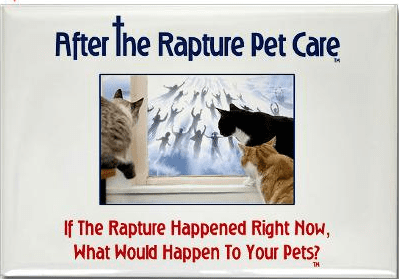 Well friends, it's the Christmas season again and time to start thinking about ways we might generously give to others. Not being a fan of American consumerism, I'm all for finding ways we can serve other people instead of wasting our money on needless junk that's just going to end up sold for 10 cents at a yard sale one day.
So, here's the perfect opportunity for you to give back: register to become a post-rapture pet caretaker.
Seriously, have you wondered about the fallout if we're wrong about rejecting the doctrine of the rapture?
The potential fallout is huge: we will likely be left behind for a hellish period of 7 years (even though 7 years isn't in the Bible either, if I'm wrong on the rapture everything else is fair game). During that time, if we want show God and our neighbors that we're really sorry for listening to legitimate scholars like NT Wright instead of fundies with honorary doctorates, we should probably get busy loving our neighbors (and resisting the mark of the beast) for the FULL seven years (seriously, we need to work every minute of those seven years). One of the best ways we could love our raptured neighbors would be to take care of their pets while they are gone for the tribulation. When they return to the earth for what would be the 3rd coming of Christ, to kick of the millennium (another doctrine I will clearly have erred on), we'll be able to present them a peace offering: their well cared for pets, instead of a world overrun by feral cats (which would be, hell).
 (Seriously– who is going to take care of the pets? Pets always seem to get left out of eschatological discussions.)
I say, this Christmas we can reject consumerism, get in the Christmas spirit, give generously, and have a backup plan for the apocalypse all at the same time.
The thoughtful folks over at After The Rapture Pet Care have kindly been compiling a list of post-rapture volunteers for the last few years. In the event that we are totally wrong on our eschatology, we'll be called up for service to retrieve pets from the homes of our fundamentalist friends and care for them until the battle of Armageddon. It seems only fair to both our neighbors, and all the pets of the world. Sure, it might take us a few years to clean up from the plane crashes, car wrecks, and horrid earthquakes, but when all is said and done, what about the cats? That's where volunteering for After The Rapture Pet Care could help (a) care for God's creation (b) build community with others and (c) keep us productive for the last 4 years of the tribulation.
(They say they're building a network of non-Christian volunteers, but presumably we Christians who reject the doctrine of the rapture would be left behind as well, if for no other reason than just to give us a good scare.)
So, this year instead of giving your rapture believing family and friends an ugly tie or one of those bible covers with handles, why not give them a gift that will benefit them even when they are gone for the tribulation? Just sign up to become a post-rapture pet caregiver on behalf of family and friends in your area! In your family or friend's Christmas card this year simply indicate that instead of a typical gift, this year you're giving a gift that will keep on giving for seven full, hellish years: the gift of caring for their pet during the tribulation.
If you're sending your card electronically, you could also include this promotional video:

Think creatively this holiday season– don't just give a gift that will last a few months, or become obsolete in a few years, give the gift of peace of mind that their pets are safe— one that will last seven long years of tribulation (until God destroys the earth with fire).
Be sure to sign up today at this link!
Merry Christmas, everyone– even pets.