I'm used to seeing people (mostly men) using female as a noun outside of academic contexts. But it happens inside the ivory tower, too, which is sometimes more problematic.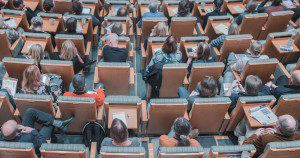 I hate hate hate it when people refer to human women as females. It feels essentializing and awful.
I blogged about this very issue recently, in a post titled Stop Saying "Female" As A Noun.
It then vanished from my mind until I saw this Mr. Mentor column about a professor who's on a committee with another professor who keeps calling her and the other women present "females." I read with interest, and thought Ms. Mentor suggested some useful things (such as gently asking the guy to reconsider his language).
Then I realized that I'd let students get away with saying "female" as a noun for "woman" in class this semester, and I deflated.
It just didn't seem worth the trouble at the time to get the students to stop saying it. I feel terrible, knowing that I let it slide and probably shouldn't have. I know I tried to pack in a lot of material this semester, and mostly I feel I was successful…but if it came at the cost of language-level learning moments, probably I could've done it better.
So, I guess I'm not saying this to beat myself up, but rather to acknowledge a missed educational opportunity. It's hard to be present enough to seize every instance to do more/better feminist work, but I'll try to do better in the future.