I always knew I would go to college somewhere awesome. The fact that it turned out to be UC Berkeley has shaped my life in countless ways – and now I'm going back!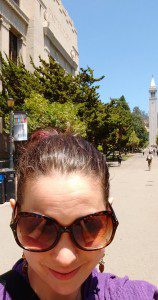 The Past
As a high school senior, I thought about applying to various schools. I had over a 4.0 GPA, I'd taken 9 AP classes, and I was clearly smart and motivated. Surely I could convince somewhere like Harvard or Yale to accept me, right? Then I decided to stick closer to home, and just applied to University of California schools. It only took one campus visit for me to fall in love with Berkeley, and off I went.
I hated living in the dorms, but once I moved into the student co-op housing (which I like to jokingly refer to as an experiment in communism), it was great. I learned to cook for my housemates, all forty of them, and got a taste of democratic leadership styles.
I got into tribal belly dance while at Berkeley, which proved to be incredibly formative for me as an artist.
But perhaps most importantly, I became a folklorist at Berkeley. My first semester there, I took the following classes:
intro to socio-cultural anthropology
intro to linguistics
intro to religious studies
a freshman seminar on fairy tales
And by the end of that first semester, I knew I wanted to do all those things. But combined in one thing! And that's what folklore turned out to be: the study of expressive culture, which encompasses traditional narrative and vernacular religion and folk uses of language and more. Soon I began to take classes with Alan Dundes, one of the greatest folklorists of the century. Under his mentorship I began doing research and submitting my work at conferences. I'm pretty sure I'm one of the few undergraduates to present at the American Folklore Society annual meeting, for example.
I also gained an appreciation for postmodern theory and feminist theory, most of which came to me in the coursework I took in the Interdisciplinary Studies Field program (which was technically my major; there's still not a folklore major at Berkeley, just an MA, and enough folklorists teaching classes that I could cobble together my own degree). Studying with Dundes meant being exposed to a lot of psychoanalytic theory and narrative theory, too. Since Dundes never identified as a feminist, but still engaged with topics of gender and sexuality, it was up to me to find my own way, and I fought hard to earn the right to identify as a feminist.
Mostly, I blossomed. I studied with internationally recognized scholars, learned to cook all the things, worked in the folklore archives, and became friends with grad students and undergrads alike. Belly dance was a constant companion, and I also took up running.
The Present
I try not to wallow in nostalgia, but I miss Berkeley. I make it back to visit every few years, and get bubble tea and wander down Telegraph Ave. I don't have a lot of college friends still in the Bay Area, but I know enough people to have places to stay and folks to brunch with.
Berkeley epitomizes my intellectual coming-of-age, when I learned important things about myself and the world. For an undergrad class on American history, I did an oral history of the Vietnam War protests that my parents had participated in while they were college students in southern California. Then, when 9/11 happened, I marched in peace protests in the Bay Area. How could I not?
Occasionally I think about how to get back to California full-time. I'm not ready to leave my dance troupe, or the people who've become important to me here. Indiana has crummy enough sex education that my skills as a sex educator are sorely needed (though I'm not putting myself out there for workshops as much as I should be; sigh, introvert problems).
---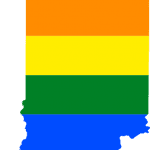 See also: Indiana Continues to Screw Up with Gender and Hurt People
---
But it'd be too tough for me to uproot at this point… or so I thought.
The Future
It's hard to fight impostor syndrome as an adjunct/alt-ac scholar, but nevertheless, when I heard that there was an opportunity for me to fill in a full-time folklore professor's classes at Berkeley in the spring, I went for it.
I worried that my lack of full-time status would be a strike against me in terms of prestige, but on the plus side, the fact that I'm "just" an adjunct means it's easier for me to uproot and move since I'm not locked into a long-term contract.
And I got it. I got the position. I'm a lecturer for the folklore program (housed in anthropology) at UC Berkeley this spring. I'm driving out with a minivan full of professor clothes, dance clothes, and books. I'm still figuring out housing, but I've got my intro to folklore class syllabus in a decent state, and my class on women, gender, and folklore is one I'm revising from prior syllabi.
I'm excited, but also a little fearful. I know I'm a good teacher, so I can handle the academic side of things. I'm beyond thrilled to return to the origin of tribal belly dance to study with the founders, FatChance BellyDance. I just… it's a lot of change. I'm trying to get over my control-freak impulses, which cause me to worry about what'll become of my dance relationships and personal relationships in my absence. I'm trying not to worry about the Bay Area housing market eating through my lectureship salary faster than I can afford. And so on.
On the whole, though, I'm excited. I'm grateful for the support of everyone in my personal and professional life who encouraged me to take this leap, or mentored me, or listening to me agonize over impostor syndrome. This has been an excellent reminder that good things are still possible in an alt-ac career no matter how gruelingly slow my progress might feel.
So, here's to Berkeley: the roots of my passion for folklore, the intellectual paradise and progressive utopia of my past, present, and future.