Yesterday was my birthday, and amidst the celebrating (partially while on campus to teach), I couldn't help but reflect on the bittersweet truth that I've only got a month left in Berkeley.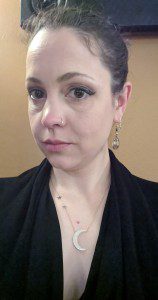 I come from a family that celebrates birthdays even as we get older. This means being serenaded over the phone, having at least a few small gifts arrive in the mail to open wherever I'm now living, and generally being made to feel special. I'm still quite fine with this, even as I progress into my mid-30s.
I taught yesterday, and I ended up telling my class during the "awkward small talk in the minutes before class begins" part that it was my birthday. They were sweet and wished me happy birthday, and then we proceeded to talk about gender, popular culture, stereotypes, and politics. It was a pretty engaged discussion, which always makes me happy.
I rock climbed, took a dance class, and had Indian food for dinner with a handful of friends. My personal Facebook was practically useless due to the outpouring of birthday wishes.
In many ways, it was an ideal birthday (not counting the absence of people dear to me, who live cities, states, and nations away).
In one significant way, however, it was a bummer: it marked the one-month (ish) mark of my departure from Berkeley. The semester's over in mid-May, and there's a family event across the country I'll be attending at the end of May, and starting in June, I have commitments back in Indy (mostly involving my dance community, YAY).
Friends here keep asking why I have to leave, and when that'll be. Friends back in the Midwest keep asking how soon til I'm back. My family's nearby, most of them clustered in SoCal, and I haven't spent nearly enough time with them while in the state, but I've got teaching work lined up for the fall in Indy. I haven't gotten enough of
the dance scenes here I love, like butoh
, while I miss
my dance community so much in Indy that it hurts
. And so on. I feel pulled in both directions, and I don't think that feeling will ever go away.
Yesterday was great, but it was also a reminder that I'm pulled in at least two directions, and the clock is ticking – both in terms of my stay here, and my own sense of mortality. When will I finally get a book out? When will I publish more of my (intensely personal and vulnerable) poetry? When will I take more risks with my academic writing? When will I figure out the rest of my life, my extreme ambivalence about academia and the fall-out from my divorce and..and…and?
When in doubt, write it out has always been a motto of mine. So, I'll keep doing that here, even as I gear up for more uncertainty and dislocation and celebration, as much as I can manage…