I don't have really high expectations for the degree of quality in online comments, but, well, this one's rather special.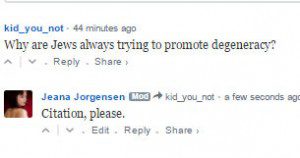 I could talk at length about the bizarre ethnocentric anti-Semitic pseudo-scientific beliefs out there… but I won't. The comment speaks for itself.
WTF, people? WTF? Where has the capacity for rational, respectful argument gone? I'm fine with people disagreeing with me, but please do so intelligently.
Also, if being Jewish = degenerate = wrong, I'm not sure I wanna be right.