Hi, I don't know why you're reading my blog right now, but I'm going to explain why you should care about scholarly communication.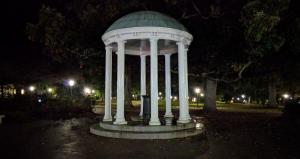 Since joining Patheos around a year and a half ago, I've had the pleasure of running a blog that's not just about folklore, feminism, sex education, dance, and fairy tales, but also about atheism, religious (non)belief, and activism based thereon. If you've come to my blog following any of those threads, scholarly communication is a topic that you should care about.
Granted, I'm new to this. I'm spending this week at the Scholarly Communication Institute (follow us on Twitter at #TriangleSCI) in North Carolina's Research Triangle. It's my first ever time at a scholarly communication conference. I gather that it's often something librarians engage in, and digital humanities folks. Not so much us folklorists; granted, we do a lot of outreach, and we study communication on a lot of levels, but we're not necessarily hooked into these specifically interdisciplinary conversations unless we have a concrete reason to be.
But from what I understand, scholarly communication is both about communication between scholarly disciplines/endeavors, and communication between scholarly communities and various public communities. Note all the plurals in that sentence: we're forced immediately to acknowledge that we all participate in different communities, different publics, with their own norms and values. And thinking in a scholarly-communications mode encourages us to confront this reality of multiple group membership – which, pro tip, folklorists are already awesome at doing – and find ways to convey our messages throughout.
This year's them is storytelling, so as a narrative scholar, of course this is my jam. I came here as part of a team, and we're starting to get our project up and running. Here's my team's proposal. Basically, when a former-Butler colleague who's a librarian reached out to me about it, I was like HECK YEAH YOU NEED A FOLKLORIST ON YOUR TEAM.
Anyway. I'll save my general impressions for my recap post(s). This post is more about why you should care about this topic, no matter where you're coming from in terms of your intellectual or professional life.
If you come to my blog for the folklore/anthropology/culture content, well, how we communicate across cultural differences is a relevant topic. Even as members of the same national community, we have vastly different communicative methods, and ways of attributing authority to narratives and political speakers. Many of these communicative differences are parts of informal culture that's traditionally transmitted, a.k.a. folklore, whereas other aspects are formalized or passed on institutionally. My team's project will expand on this topic.
If you come to my blog for the atheist/non-religious content, the questions of how we know what we know – and how we communicate what we know – are of crucial importance. Whereas faith traditions ask us to accept the assertions of others on principle, Western academic traditions demand evidence-based arguments. From what I've observed, scholarly communication models are based on empirical evidence, peer-reviewed research, and a desire to bring scientific rigor to all endeavors without necessarily diminishing the discipline-specific perspectives that can be a little more subjective (which I view as a strength of the humanities, since culture always has both objective and subjective components, and we need to learn to think with both).
If you come to my blog for the gender/sexuality/feminism stuff, communication is often heavily gendered in various ways in different cultures. Emotional labor – with its attendant demands on communicative strategies – gets allocated more often than not to women, and folks occupying other marginalized categories. We're already having conversations about decolonizing the academy, and what to do about fascists appropriating our stuff, grrr. I'm tempted to steer these conversations toward health science communication and sex education, too, because there is SO much work to be done there. And the consequences are very real (such as when counties that heavily promote abstinence-only sex ed in high schools experience outbreaks of chlamydia, *cough* Texas *cough*).
Finally, from a more meta standpoint, this is a conference where we communicate about how we communicate. It is delightful. And I'm guessing that anyone reading my blog is at the very least cognizant of and amused by the complexity of human communication.
Bottom line – because I need to wrap this up and get some sleep before the next day of the conference – scholarly communication is something that Patheos Nonreligious readers should care about, for a cornucopia of reasons, whether or not you're regulars of my blog. Scholarly communication is one of the foundations of a secular progressive society that is able to implement evidence-based policies and promote equal educational opportunities. There are more reasons, I'm sure, but those are the ones I've got for now!