This is the kind of obvious insight that I wouldn't necessarily give a student credit for a paper unless it were backed up with quotes, but it still stands true.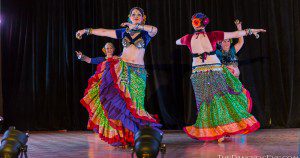 I am having a visceral reaction to being at Tribal Revolution (a big belly dance event) this year. It's as though I can't hold my emotions in, and with every hip lift or arm sweep they're leaking out of me in weepy pieces.
I've known for a while that dance can be transformative. I mean, hello, that's part of the point of butoh. It's something I've researched, specifically in how belly dancers interact with the numinous. I've written on the importance of being free to suck at something (also based on experiences here at Tribal Rev) and on how when faced with tough life things (like the 2016 election results), I dance.
But this year, it was brought home to me that dance connects people and that's a huge reason why it's so important. Like, yeah, dance fulfills a lot of functions in people's lives and cultures, but its potential to connect people, and to do so artistically and through embodiment, is incredibly significant.
I watched a dance troupe open the Thursday night showcase and they were all so happy and smiley dancing together that I was in tears simply seeing their faces. I've listened to teachers talk in workshops about the history of the dance, and started crying. I held hands with fellow dance students when closing out a workshop and circling up to cool down, and teared up. If something has the slightest potential to tug on my heart strings in this context, it does, and I turn into a leaky faucet as a result.
I hate crying and feeling vulnerable in public, so it would be embarrassing, if dance weren't such a safe space for me.
I felt a similar sense at Sacred Circles, an ATS retreat on the shore of Lake Huron last fall. I don't think I wrote about it in my reflections post, but I also spent a lot of time teary-eyed at that event, in part because I was processing emotions for what was leading to my divorce, and in part because it just felt so good to be surrounded by people sharing the same dance form.
This, in a nutshell, is the major reason I came back to Indiana after Berkeley. My dance community means everything to me, and such reminders are poignant.
With how the last year has gone, I guess I'm glad I still have the capacity to feel emotions at all. I know dance isn't for everyone, but I hope that everyone can find the thing that connects them – to their own emotions, and to other people – and pursue it passionately.