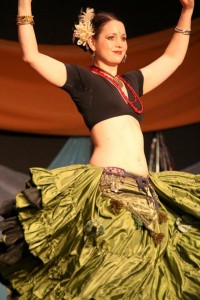 I created this page specifically to catalog my dance-related interests, even though the main focus of this website is on my scholarship. Dance has become a pretty big part of my life. It's a hobby, a way to stay in shape, a creative outlet, a way to connect with various communities and friends, and, more recently, a topic I'm researching as a scholar.
Catch me performing at:
The Penrod Art Fair & International Festival in Indianapolis
If you're interested in taking belly dance classes head over to the Indy Tribal website and click to explore:
Want to see an example of my research on dance? Click here to access my paper "Dancing the Numinous: Sacred and Spiritual Techniques of Contemporary American Belly Dancers," published in the Journal of Ethnology and Folkloristics (woohoo open access scholarship!).
If you're having trouble with the idea that it's appropriate for an educator to also be a belly dancer, check out my blog post on stigma and sexiness.
There are a ton of belly dance styles out there, but in March 2012 I was certified in American Tribal Style® Belly Dance by taking the General Skills workshop with Carolena Nericcio of Fat Chance Belly Dance®. I also received my Teacher Training certificate, so I now have Sister Studio status. That means that if you want to study ATS®, you can do it with me! (email me with questions at jeanaj@gmail.com)
My affiliations include:
More of my solo work can be found at my Facebook page dedicated to movement arts. I have a few of my performances on my Youtube channel. Here are some highlights: