I am only okay at telling stories.
However, I'm actually really good at telling stories about stories.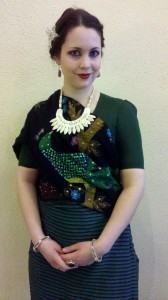 (seriously, ask any of my intro-to-folklore students: I try to tell jokes as examples of the genre, and usually muck up the punchline; really, ask any of my friends or family – I am not so good at telling jokes or stories, but I am fantastic at interpreting and analyzing them)
So there I was at the International Conference of the Fantastic in the Arts this past March. This is where, incidentally, I'd had a life-changing conversation with China Miéville, a writer I adore beyond words. It's also where I presented on my dissertation on gender and the body in European fairy tales, focusing on monstrous masculinity within my subset of tales. Some of my favorite people in the whole world attend this conference, so I love catching up with them. But I also get to meet new people, which is quite awesome in its own right.
One evening, after panel sessions were over, I found myself at the poolside bar with two young conference attendees who were both studying some permutation of library science and/or children's literature/YA. They were really interested in learning more about the connections between fairy tales and fantasy, and I was more than happy to oblige them. After a drink or three, I was telling them, basically, how to not screw up this kind of scholarship. I might've also been referring to myself in the third person as Auntie Jeana… I can rock a donor figure role, okay?
If you wanna know how to do good scholarship on fairy tales and fantasy, I figure it helps to know what bad scholarship looks like. And oh boy, do I have some gems for you!
Earlier at this conference, I was attending a panel on, you guessed it, fairy tales and fantasy. There were two solid papers, one on illustrations in children's books based on fairy tales, and one on a certain rather violent tale type. The third paper was… well… when I was feeling charitable before the Q&A session, I decided that it was ill-informed and poorly executed.
Despite the paper being on a folkloric topic – Cinderella – it veered off and ignored all folklore scholarship on the tale type. It tried to prove the origin of motifs from a single version of the tale based on shared historical associations which was, hm, misguided at best. I mean, searching for origins is so nineteenth-century. Contemporary folklorists don't bother much with the quest for origins since unless someone writes it down, oral tradition is, well, oral. You're not going to find what's never been documented. That way lies madness (or inaccurate assumptions, or poorly-done history). However, I was willing to give the author the benefit of the doubt.
But in the Q&A session, when I politely tried to point out that the author might want to read what some folklorists have to say on the matter, I was repeatedly cut off. I mean, the author got really defensive. And I even started my comment with a compliment on one connection she'd made that had caught my interest!
So, kids, before you present a paper at a conference (or encourage your students to do so), make sure you've done some basic reading in the discipline that whichever topic it is happens to fall in. Also? Be open to criticism, especially when it's politely phrased and well-intentioned.
This paper wasn't as bad as other stuff I've seen, though. And by other stuff, I mean the work of Jonathan Gottschall. He's a literary Darwinist who thinks folktales provide wonderful grist for the mill of analysis. It's so convenient that you don't even have to read them in order to analyze them! The computer does all the work for you! So you can prove that tales from every culture reflect basic evolutionary mating patterns!
I cannot make this shit up (though I say so in more polite terms in my dissertation).
Donald Haase (an awesome-sauce folklorist) has already done a great job of debunking Gottschall's work on fairy tales, so I needn't repeat it here. Though you can bet I repeated it for the benefit of my young audience at ICFA on that balmy March evening at the pool bar.
Basically, if you are going to do research on a folklore topic (which includes folktales and fairy tales), do us all the favor of reading some up-to-date scholarship from our discipline. Also, read the texts themselves (which Gottschall apparently couldn't be bothered to do). Also, make sure you're working with a good translation. How do you know which translations are good? See our scholarship, as indicated above. If it's older than 50-80 years, be skeptical, since people's morals (especially during the Victorian era) prevented them from doing authentic translations especially if the material was sexual or scatalogical in nature. Which, ya know, happens a lot in folklore.
I believe I taught my young charges a lot that night by the poolside bar. Certainly, I taught them a lot about vodka shots. But I also think that in my rambling, tipsy state, I also delivered an impassioned address about how the discipline of folklore has much to offer the study of children's literature, YA, and fantasy. We study people doing creative things. We study storytelling in all its forms. We've been doing it for centuries now. Why on earth would you ignore us?!
And that, my friends, is how fairy tale story time with Auntie Jeana goes.