I wish I could say, "There's an app for that," but since the London archive is now searchable online, it's pretty darn close!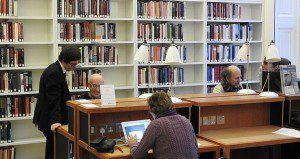 I was thrilled to see this Guardian article about an archive detailing the activities of the UN war crimes commission, once closed to the public, becoming accessible to all this week. The article provides some good context for why this is important, so I highly recommend reading it for background.
But on to the main news: the Wiener Library in London looks amazing, for so many reasons, and I want to make sure it's on everyone's radar.
First, this excites me because I'm a nerd about archives (though I've spent the most time in folklore archives, not ones based on historical documents).
Second, it's exciting because I've done a little research on humor in World War II, and the time period continues to fascinate me. I was almost a history major in college, after all; one of the best (though also most depressing) classes I took at Berkeley was studying comparative approaches to mourning the Holocaust and the atomic bombing of Hiroshima and Nagasaki.
Third,
while I call for academics to resist totalitarian/authoritarian/oppressive regimes by educating the general public
… y'all aren't stupid, and you can participate in this endeavor as well. We've got more specialized tools in our toolkit, but resisting fascism is a huge endeavor, and we need all the help we can get. We can't reach every audience; we don't speak every lingo.
Because as much as I hate to say it? Holocaust denialism is still a thing. It represents an appalling failure of not only public education, but also cultural norms and values to delineate what is and is not acceptable. I swing pretty progressive so I'm not actually interested in a lot of top-down dictation of values… but affirming "hey this major (and awful) historical event ACTUALLY HAPPENED" seems like a pretty basic one in my book.
I don't know when I'll next be in London, so I'm not sure when I'll get to visit. But I hope others do, and that others use their newly-accessible online catalogue search function. They've got digital exhibitions, too!