Folklore has the potential to both simplify and complicate how we interact with the world around us. This, in a nutshell, is why I'm a folklorist.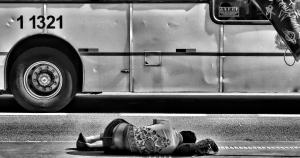 This semester I'm teaching a class on global women, rights, and resistance. I took a cue from another professor and started the first day of class with Chimamanda Adiche's TED talk, The Danger of a Single Story. As a novelist, Adiche didn't mention folklore in her talk, and she's not necessarily interested in in folklore in the same way that I am. But her talk has ramifications for the study of folklore, both lay and professional.
Adiche talks about the "single story" as a kind of flattening device, as when you only know one thing – one story – about a group of people. It could be a generalization about the population of a country – all people in X nation are Y – or about a religious group, or a gender. In folklore genre terms, I would say that a single story, rather than being a genre of folk narrative, is a stereotype, or an oversimplification about one group's identity.
Sometimes folklore gives us a single story about a group: blondes are dumb, Canadians are overly polite, all gay men are fabulous. This is one area where having a folklore education (and a humanities/social sciences education more generally) can help us pinpoint the single story in action. We can identify the single story and challenge it, using academic terminology to say, "Hey, it seems like that joke you told is actually based on a stereotype." We can encourage people to think about where they received these beliefs from, and why they perpetuate them.
But here's the flip side: as much as folklore can be a vehicle for transmitting overly simplistic single stories about a group, it can be a conduit for complicating single stories.
Folklorists often characterize folklore as an artistic portrait of society. Folklore rarely provides a direct one-to-one correlation picture of society's values and traits (as posited in the culture reflector theory); it's more likely to be a distortion, aesthetically and perhaps ironically filtered through the lens of communally-held tradition.
In studying the folklore of a group – rather than the folklore about a group – we gain access to a much broader view of a people's identities and experiences. We can learn about a culture or subculture from the inside, about how people see themselves. Surveying the jokes a nation tells about itself rather than the jokes told about a national group, for example, will provide a much more diverse and distinctive portrait of that group, full of nuance and sub-categories that might not be apparent to outsiders. Learning about the foodways of a group takes us beyond stereotypes about that group (often, immigrants are stereotyped as having particularly stinky or abhorrent foods from the view of the host culture) and into the group's relationship with the natural world, with history, with gender, and perhaps also with topics like immigration and war.
None of what I'm saying is new; as I note in my essay on folklore and power, folklorist Richard Bauman was theorizing in 1972 about how folklore is a response to and is inextricably wrapped up in the relationships among groups of people with differing access to control over their circumstances. But connecting folklore to "single story" language is recent, and I like doing so because it demonstrates how knowing the full definition of folklore as informally transmitted traditional culture (rather than a narrower definition as just oral tradition, or just quaint peasant practices) can keep the study of folklore relevant.
I find the "single story" language useful with my students because it's not as stigmatizing to admit "Hey, I think I had a single story in my head about XYZ" as it is to admit ignorance about a group or culture. We all fall prey to single stories; I'd imagine there's some cognitive bias we're all prone to that swoops this up under its auspices. The conceptual tools of folklore studies help us identity and deconstruct single stories, and move beyond them in our study of various cultures (including our own).
With recent political events and natural disasters, I'm seeing a lot of the perennial lament of "But why don't they just leave XYZ besieged city?" However, I'd remind people that poverty is filtered through a single story for many of us who've never actually experienced it. In that light, I'd encourage people to reflect on the single stories they hold, and how we might benefit from complicating those stories through more thorough understandings of folklore and culture.