Too busy living to write sounds like a bit of a cliche, but recently, it's been true. The trick is figuring out why this differs from prior semesters.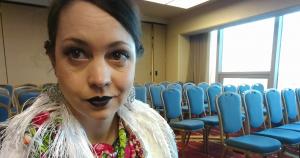 It's weird, but in some ways my life was in more tumult at Berkeley, and my teaching load was more intense, but I was blogging way more in the spring semester than I am this semester. I think part of it is that my commute involved public transportation rather than driving. I also had fewer social connections, so I had more alone-time in which to write.
Mostly, though? I think that I'm so busy living my life here in Indianapolis that I have no desire to write about it.
I'm keeping up on the news somewhat, of course. I get angry, and I get blog post ideas, and then I just let them sit until they grow stale and are no longer relevant. Trust me, I haven't run out of feminist/atheist/activist rage, I'm just channeling it into my teaching right now.
Right now, I just don't have a lot to say about my life. I'm still picking up the broken pieces from my divorce, and figuring out what's next. Living on my adjunct wages is turning out to be not so terrible in the short-term; it's not grinding poverty, and I've got some middle-class privilege on my side, and a lot of friends/community to help me out.
My spring semester is going to be even crazier than my fall semester, as I'll be teaching one class at my current institution and one at Indiana University. Adding a commute will doubtless cut back on my free time even more, so finding time to write will become even more challenging.
But at the end of the day? No matter how exhausted I am each night, from teaching college and dance and driving all around Indy and glancing longingly at social events that I don't have the time or energy for… I'm still grateful to be where I am. I'm living my own life, not someone else's, and I get to be in charge of how I spend my time. Right now, that's the best feeling: knowing that I'm doing meaningful work as an educator and activist and artist, and knowing that my time is my own.
Anyway. More content coming soon, hopefully. Maybe I'll even regale you with the tale of how a white supremacist hit on me at the local goth club (I know, right? welcome to my weird life).