I am still learning how to be an effective ally – but there is one thing I know I do well, and that's teaching. Specifically, teaching folklore.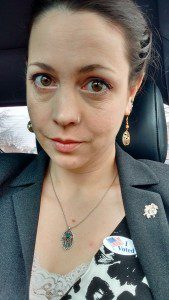 Within a week of the 2016 U.S. election results, there were over 400 hate crimes documented. Clearly, there's a strong need for us to document and challenge bigotry, as well as band together to protect the vulnerable and marginalized.
But how?
As I wrote in my post about knowing how you handle conflict, self-knowledge is key. And I know that I'm a great researcher, teacher, and writer, so that's one thing I'm offering to the world.
If you need facts about why gay conversion therapy is bullshit, or if you need suggestions for how to have conversations about bigotry in your daily encounters, or anything that is related to culture, communication, folklore, gender, sex… hit me up. I'll help you find it. I'll help you present it. And if I don't know how, I'm sure I know someone who does.
I may be naturally shy, but I can teach til I'm blue in the face. I've been in the college classroom for over a decade, and I've taught teens and adults alike. I've given a conference keynote and given lectures in India and Estonia. I've got this.
One of the skills you develop specifically in teaching folklore is reaching out to people, meeting them where they're at, and helping them articulate the values and traditions they've learned throughout their lives. What's happened in America is clearly related to heritage, group identity, and cultural expression, and that's what folklorists do best.
I believe that folklorists have a special contribution to make now, because of how we interface with multiple audiences (college students, government agencies, the general public) while dealing with expressive culture and daily traditions. If we can educate others about how the culture around us helps inform our values, we should. If we can use our fieldwork and teaching skills to reach audiences outside our normal social circles, we should.
Obviously I plan to be an ally in as many ways as possible, such as by speaking out if I witness bigotry or a hate crime, and by putting myself in between an aggressor and someone in danger. If Trump actually implements a registry for Muslims, I'll be in line too.
But since I've got these fancy letters behind my name, connoting my research and teaching prowess, I intend to put those for use for good.