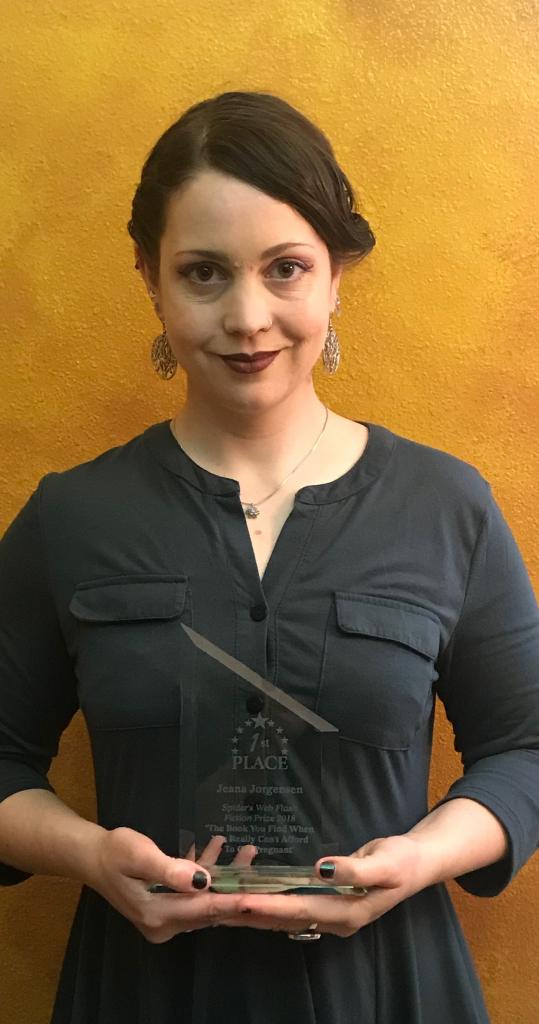 And it's a FEMINIST writing award, which feels incredibly validating given that my earliest brushes with fiction, both reading and writing it, were infused from the start with an awareness of how gender inequality pervades society.
I recently learned about Spider Road Press, a small press featuring strong women and feminist characters and themes. I then decided to submit to their feminist flash fiction contest, and, to my great surprise, I won it!
They've announced it on their page, and I'm keeping an eye out for more information on how to order the anthology my story will appear in in late 2018, Companion of the Ash. (I'll update this blog post with ordering info then, if anyone is interested)
For now, though, I wanted to actually pause and celebrate this as an accomplishment, because I'm not good at remembering to do that, and because this kind of thing is actually quite integral to my mission as a writer on the whole.
My short story, "The Book You Find When You Really Can't Afford to Get Pregnant," is a piece of dystopian science fiction that is also firmly grounded in reproductive justice. The viewpoint character is a highly educated woman who is doing the best she can in a world that has fallen apart around her (yeah okay I might've put a little bit of myself into this story).
One of the reasons I'm so happy that this story is being recognized is that it foregrounds the need for contraceptive access in speculative fiction. The need for birth control doesn't just go away in the zombie apocalypse, you know? Aliens arriving won't necessarily just fix sexism, misogyny, and transmisogyny (or racism, or homophobia, or…).
I remember reading a bunch of the sci-fi classics in middle school and high school – Asimov, Heinlein, and Bradbury – and being deeply disappointed at the lack of women characters in some cases, and the lack of believable, intelligent, and driven women characters in other cases. I don't think asking for accurate and nuanced portrayals of, like, half the world's population is asking for too much, and yet here we are. My earliest stabs at writing fiction, which of course were terrible in retrospect, featured strong women characters, because I wanted to write the sorts of things I wanted to read. Representation matters, and when you're accustomed to being erased in the stories you consume, it creates (in me at least) a burning need to rectify that situation.
There've been numerous amazing books and stories published since then, so I'm overall optimistic. And many of these fantastic works of fiction foreground feminist concerns, in addition to just having better and more diverse women characters. Some of my recent faves (for these specific reasons) include The Fifth Season by N.K. Jemisin, Who Fears Death by Nnedi Okorafor, and Her Body and Other Parties by Carmen Maria Machado.
Anyway, I could chat about books I've enjoyed for ages; I'm just happy to be making my own contribution to the realm of feminist speculative fiction. It's also nice to think that more people will probably read this than whichever academic piece I'm also working on now (though I am excited to be writing about The Shape of Water in one book chapter and Biden memes in another).
Got favorite feminist speculative fiction to recommend? Feel free to mention it in the comments!
(oh yeah – might as well mention that I've got a dystopian "Snow White" retelling in issue 10 of Timeless Tales Magazine… hm, I seem to be on a dystopian kick for some reason!)