What do fantasy scholars and folklorists do when they gather to discuss epic narratives? Have an awesome time, obviously!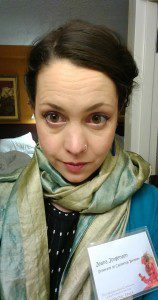 As longtime readers know, ICFA is one of my favorite conferences. The International Conference on the Fantastic in the Arts gathers scholars from all disciplines and many countries, alongside authors, artists, publishers, and editors who work in various areas of the fantastic. We create and/or study traditional fantastic genres – fantasy, sci-fi, horror, children's lit/YA – alongside offshoots from magic realism and literary fantasy to paranormal romance and erotica. We study the fantastic as it appears in media ranging from fiction (novels, short stories, poetry) to the mass media (TV, film, video games) to fanfiction to the visual and performing arts to… you get the idea. We have broad-ranging interests which we pursue with passion and rigor.
In my recap post from last year's ICFA, I talked A LOT about fairy tales. This is because the overall conference theme was Wonder Tales, and indeed, those of us who are folklorists and fairy-tale scholars showed up in numbers.
And you know what? It made an impact. See, in terms of ICFA's organization, there are divisions that you have to submit your papers to, like the Science Fiction division and the Fantasy Lit division and so on. Fairy-tale scholars do not have an institutional home with an annual conference to call our own, so we attend conferences based on the following themes: folklore, literature, anthropology, pop culture, and so on. But fairy tales inherently partake in the fantastic, and a few years ago, a critical mass of us starting gathering at ICFA, and scheming.
Based on some hard work over the last couple of years (which I can take very little credit for, other than promoting ICFA to my colleagues/friends and trying to get more folklorists to attend), our special interest group on Fairy Tales and Folk Narratives was just granted Division status. This is an amazing achievement for our field – we have an annual home base now! Fairy-tale scholars from all over should come check it out, and folklorists with broader narrative interests too!
In addition to having this disciplinary win to celebrate, I'm pleased about the conference on a personal professional level too. I delivered a version of a paper I'd written about myth-ritual theory in Ellen Kushner and Delia Sherman's novel The Fall of the Kings, and it was very well received. My folklore colleagues Linda Lee and Beth Spillman also gave excellent papers, respectively on "Beauty and the Beast" intertexts in The Privilege of the Sword and on the serial fiction that Kushner is collaborating on with others in the Serial Box publishing adventure Tremontaine.
I was also featured on a discussion panel about the intersections of fairy tale and epic. I mostly used it to pack in the oldies-but-goodies of folklore studies, from Danish folklorist Axel Olrik's epic laws of folk narrative to the oral-formulaic theory developed in order to explain the composition and performance of oral epic/heroic poetry and song. That panel was jam-packed full of interested people with interesting questions, so I'm calling it a victory. My panelmates Claudia Schwabe and Theodora Goss, along with convener Christy Williams, also brought it in terms of preparing excellent content and curating an excellent discussion.
I tweeted the heck out of the conference, along with others, so I'll direct you to the #ICFA38 hashtag if you want to catch up. In brief, other highlights include:
Papers on various aspects of damsels in distress, from the Welsh mythology roots of Arwen in Tolkien's Lord of the Rings to the different ways in which "Cinderella" is imagined in contemporary retellings (from the sci-fi YA novel Cinder to films like "Ever After")
Children's lit and YA papers on topics like grassroots activism and nonviolence in the Harry Potter books; enchantment and storytelling in Philip Pullman's His Dark Materials trilogy; and dystopian reproductive politics in the novel The Giver
Assorted fairy-tale and folk narrative papers on intersections of the gothic and fairy tales; on queerness in Emma Donoghue's retold fairy tales in the book Kissing the Witch; and, one of my favorite recent topics, on anti-Semitism in the Grimms' fairy tales
A discussion panel on disability in fantasy, featuring both creative writers and scholars, that was flat-out AMAZING and I'm so glad I had the bandwidth for it despite it being the very last item on the program of the final day of the conference. Julia Rios has a bunch of linked tweets on it here. I was also live-tweeting, but using the conference hashtag (though I'll link to a few of my fave summarized points, like author Fran Wilde's point about stereotypes vs. tropes of disability and scholar Sara Cleto's observation that disability is often a punishment in fairy tales).
In addition to professional awesomeness, ICFA is such a feel-good conference for me, as I wrote in this post about the 2015 conference focusing on the idea of compersion.
I believe this was my twelfth year (?!) attending ICFA, so by now it feels like coming home into the warm embrace of family. There's a degree to which that's literal, since I do have family in Orlando, and this year I got to hang out with them, which was nice. There's something about the sense of scholarly camaraderie that really gets me, though. It's magical in a fashion that eludes words.
This year was also special because I had a mini getaway with some colleagues to the Chocolate Emporium in City Walk where we devoured all things chocolatey. There were five of us and we couldn't even finish the flourless chocolate cake (pictured below), it was that dense!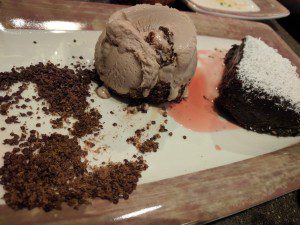 Given that this is a conference where I feel very at home and comfortable, I guess it's not surprising that I let my guard down a bit and really let some people in as to what's been going on with me. I'm really grateful for how supportive everyone was, and to anyone else who noticed that I was preoccupied or awkward or whatever… it's been a tough year, so I'm glad that we nerds tend to have a high tolerance for weirdness. Still, so many people were so supportive when I decided to employ my "fuck small talk" attitude, I can't help but smile at the wonderful community I seem to have stumbled into.
I ran myself a bit ragged, not getting nearly enough sleep and slurping down far too much caffeine, but it was worth it. I did as much self-care as I could, and took a detour home to see my parents right after the conference, which I think helped my recovery. Nothing fixes con drop like L.A. bagels with lox and cream cheese, after all!
I think my post is one of the first write-ups of the conference, though colleague/friend Amanda Firestone also pointed me toward Margaret Carter's recap post (I'm amused that she points out the lack of consensus about what epic actually is because, well, academics are always tangled up in genre definition struggles).
Got any other round-up posts? Point me towards 'em and I'll link to them here!