I have all the same problems with Steve Bannon as other people who are, well, not white male supremacists (check out his misogyny, racism, and so on). But if you know anything about American history… just, ew.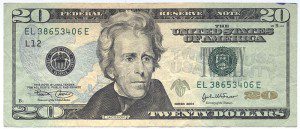 This CNN interview with Bannon has him comparing Trump to Andrew Jackson in terms of shaking things up and starting a new populist movement. It doesn't seem like he meant it ironically.
Let's recall that Jackson engineered the Indian Removal Act which was essentially state-mandated genocide (the Trail of Tears occurred on his watch). Knowing that, why would you compare the politician you're working for to Jackson? What is there to gain, unless you're trying to assure other white supremacists that your guy is just like the other guy who threw non-whites under the bus, and brutally at that?
I know I'm perhaps foolishly optimistic about how education can change people for the better, but c'mon, this is basic American history. And now I'm very sad that either our education is in such a sad state, or people are ignoring history, or both.