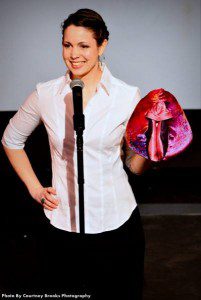 If you read my conference recap of the 2015 Woodhull Sexual Freedom Summit, you'll know that I'm incredibly enthusiastic about the activist and educational work that happens at this conference (plus it's a good time).
Thus you can imagine that I was thrilled to recently learn that my application for a 2016 blogger scholarship to attend the conference was accepted!
So I'll be attending the 2016 Sexual Freedom Summit and blogging/tweeting the heck out of it, which I probably would've done anyway, but now I get to do so in an official capacity with some support from the conference. It feels really amazing to be chosen to help spread the word about the advocacy work that the Woodhull Foundation is doing.
What does this mean for my Patheos readers? I'll still aim to publish regularly about the intersections of religion and folklore, but in the months leading up to Woodhull, I'll also be highlighting material about sex education, sex negativity in religion and culture more generally, and the kinds of sex advocacy that the Foundation is promoting.
It's a huge honor, and I'm thrilled, and I can't wait to bring y'all more sex topics and education and observations that'll help us all engage, create dialogue, and move forward.
p.s. While I'm doing most of my blogging these days here at Patheos, I've also got a sex ed site if you're curious about the kind of work I do.