Nothing like a good scholarly presentation to get the heart pumping and fill one with happy thoughts and prancing trickster Bidens.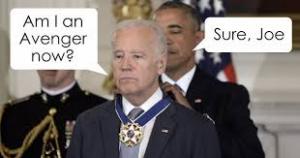 I've been in overwhelm mode and haven't had the bandwidth for much blogging, but sitting here at the American Folklore Society annual meeting has me feeling recharged and ready to go.
…which is good, because my paper's today.
Part of the overwhelm has been me fitting in conference travel while teaching, due to my brilliant "let's present at 6 conferences in 2017!" plan. There've been other reasons, but mostly I'm just happy to be here now.
I blogged about starting my Biden meme research last November, and have since collected over a hundred of the memes (I'm sure there are more). I opened my large Berkeley lecture class on folklore with the memes, and have discussed them online with friends and colleagues since.
My paper today, "Biden His Time: Joe Biden as Trickster in Political Memes," will hopefully bring it all together. In terms of theorizing the meme cycle I'm still thinking through which approaches I actually want to use, so I'm hoping for useful feedback from my colleagues. Me being me, I'm going to talk about gender and sexuality in the cycle a fair bit, such as how the memes mock Pence for being homophobic – still relevant in the news, UGH – and how Obama and Biden have a bromance that models an alternative to hegemonic masculinity.
Anyway, wish me luck! Ideally I'll get this paper polished, maybe present the material elsewhere to keep refining it, and then publish this baby!