I'm in favor of anything that ups my nerd cred; it's even better when it helps raise the profile of academic folklore studies and the tale type system specifically!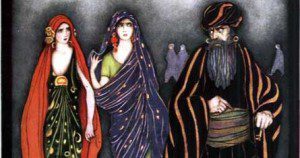 That's why I'm please to have been interviewed for this Atlas Obscura article, The ATU Fable Index: Like the Dewey Decimal System, But With More Ogres, by Cara Giaimo.
While there are a handful of things I would've done differently (such as not including "fable" in the name of the tale type index, since it can mislead people into mischaracterizing the bulk of the narratives included therein), overall I think it's a solid piece of writing. I do like how I was characterized, though; I do, in fact, rattle off tale type numbers like they're old friends, though of course I don't have the whole bloody thing memorized. I also like that my research on silent/silenced heroines got some attention. And while the tale type index isn't perfect, it remains an indispensable tool for cross-cultural fairy tale, folktale, and folk narrative research.
So, yay for getting to be a part of a blog feature that continues my project of academic folklore outreach! The more people who know about the tale type system, the better!